INDIANAPOLIS – Matt Eberflus has spent the offseason studying tape and writing reports on more than 60 NFL players expected to become free agents next month.
This week at the NFL Combine in Indianapolis, the Bears coach has turned his attention to evaluating the nation's top pro prospects.
"I want to do that because I want to know who we're looking at, who we're interested in, and get to know that player in terms of the number on the field," Eberflus told ChicagoBears.com. "Now I'm doing the same thing with the draft guys, and that's an important part of it because when we go through the process of free agency and the draft, I've seen multiple games on each guy."
As Eberflus studies game tape of both the NFL and college players, it's easy for him to spot individuals who possess the qualities consistent with his "HITS" principle. It's an acronym that stands for "Hustle, Intensity, Takeaways and [playing] Smart."
"That's simple—and it should jump off the tape," Eberflus said. "The guy should love football and have passion for the game, and their play exudes that they belong with the Chicago Bears. Certainly, guys have to improve. That's our part as coaches, is to be able to develop their skill. But you've got to be able to see that raw love and that raw passion for the game."
When Eberflus served as a linebackers coach earlier in his career with the Browns and Cowboys, he administered 38-question tests to NFL prospects during campus visits. Eberflus taught the players several defenses and then quizzed them on what they had learned. 
"It was [about measuring] quick retention," he said. "Being able to retain information and then give it back to me because when you're a linebacker as in [a] quarterback, you have to be able to do that."
Eberflus also is part of the interviews the Bears conduct at the Combine. While the future pros are well-prepared to deal with a variety of subjects, it's still possible to gather vital information with the right approach.
"It's important to ask the right questions," Eberflus said. "You ask questions that are open-ended questions to get them to talk. They're prepared for it. But you can ask certain questions that are open-ended. I like to know what really makes the guy tick. How does his camera look at the game, how do his eyes look at the game? I think that's an important thing to glean from that. But you can get a lot of things off asking good questions."
While there are several key aspects of the Combine such as medical exams, interviews and position drills, nothing seems to garner more attention than the 40-yard dash. But Eberflus doesn't consider those times a definitive way to predict future NFL success. 
"You have play speed and you have timed speed," he said. "Don't get me wrong, there are certain positions that need to have raw speed—receiver, running back, corner, safety; those guys have to have that. But if a guy plays fast and he's a good football player and he has the measurables to make it up here, we're certainly going to take a hard look at him."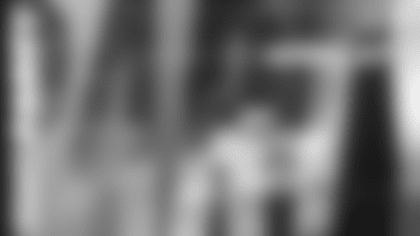 THE BIGGEST BEARS PARTY OF THE YEAR
There's no offseason for the Bears, and this year we're celebrating an historic offseason with the whole family. We'll get together for THE MOMENT we welcome the newest Bears into the family. Join us at Soldier Field for the 2023 Miller Lite Chicago Bears Draft Party, and spend night 1 of the Draft with thousands of your closest friends.
We'll have non-stop Draft coverage and analysis, plus the spring's best party with activities across the Dr Pepper Patio, the Miller Lite Midway, the Verizon Mezzanine and on the field. Tickets for this year's Draft Party are currently sold out. Check back for updated information between now and April 27th. If further tickets become available, you'll hear about it here first.