When Michael Ola was battling for a job with the CFL's Montreal Alouettes in 2012, he never imagined that two years later he'd be practicing with the Chicago Bears' starting offensive line.
But that's exactly what has transpired in training camp this summer. The 6-4, 312-pounder has lined up with the No. 1 unit at right tackle this week in place of Jordan Mills (foot) after getting reps at right guard earlier in camp when Kyle Long was sidelined with a viral infection.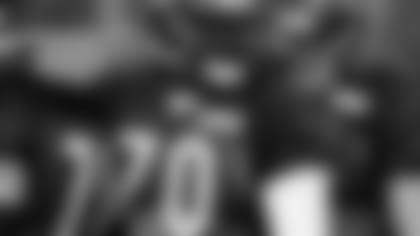 The Bears claimed guard/tackle Michael Ola off waivers from the Dolphins in May.
"It's a great opportunity," Ola said. "Anytime you get the chance to play with the starters, I mean people spend 2-3-4-5 years, even their whole careers, never getting the chance to practice with these guys, and I've been fortunate enough to have pretty much most of camp to get reps here and there with them. So it's a great opportunity. I couldn't ask for anything better."
One glimpse at the unusual path Ola followed to the Bears makes it easy to understand why he appreciates and relishes every practice rep. An undrafted free agent out of Hampton in 2011, he signed with the Hartford Colonials of the United Football League following an open tryout. But the franchise folded a month before the season was set to begin.
Ola then started 11 games with the Jacksonville Sharks in the Arena Football League in 2012 before heading north of the border to join the Alouettes. Montreal's head coach at the time was Marc Trestman, who happens to be entering his second season in the same role with the Bears.
"Of course I had aspirations to be here [in the NFL]," Ola said. "But not in my wild dreams [did I think it would happen] because it had eluded me for so long. It just looked like it was something that was far off. But God blessed me and I'm here."
The Bears claimed Ola off waivers from the Dolphins in May, ending a five-month stint in Miami.
Ola is in the mix to earn a backup job with the Bears, in large part due to his versatility. But being able to play more than one position is more a requirement than something he will brag about.
"I wouldn't call it pride; I would call it survival mode," Ola said. "You have to be able to do more than just one thing if you want to make this team. With such a talented offensive line that we have, you have to be able to fill in multiple roles because even our backups, they can do the exact same thing. So it's basically like I have to get with the times."
Ola is thrilled about reuniting with Trestman.
"He's absolutely the same man," Ola said. "One place he's in Montreal, the next place he's in Bourbonnais, but he's the same exact dude. He doesn't change. He has a philosophy and it's wired in to him and it's what got him to this point so I definitely wouldn't expect him to change.
"A lot of people might be like, 'Oh, you're in the NFL, there's a certain pressure to adapt to certain things,' and he might have adapted to four downs instead of three. But as far as him the person, he hasn't changed. He's a great man and awesome coach. I really respect him and I thank him for the opportunity."
Speaking of opportunities, the Bears' preseason opener against the Eagles Friday night at Soldier Field doesn't count in the standings—but don't tell Ola that it's meaningless.
"This is not just a preseason game," he said. "This is my audition. All the work that I've done, this is my time to show what I can do and allow my natural ability to come out and to go full speed against somebody else, and to really show these coaches the things that I have within me to be able to make the Bears a better organization. So I'm going to go out there and try my absolute hardest. This is not just a game for me. This is it."
Ola can't wait to suit up and step onto an NFL field for the first time Friday night.
"It's a dream come true," he said. "I don't take it for granted. In camp you can kind of get tired with the same old drudgery of coming out and working, but it's moments like this when I really don't take things for granted because a lot of people won't even get to this spot and they haven't been able to. So I'm just so fortunate and blessed to be here right now.
"No matter what happens I'm definitely going to make the most of my opportunities, and I'm very grateful and humble to be here."