For the second year in a row, the Chicago Bears and tight end Martellus Bennett partnered with NFL veteran and New York Times Bestselling author Tim Green for a Play 60/Read 20 event. Bennett and Green visited Paddock Elementary School in Palatine on Thursday, October 22 to encourage kids to exercise their bodies and their minds.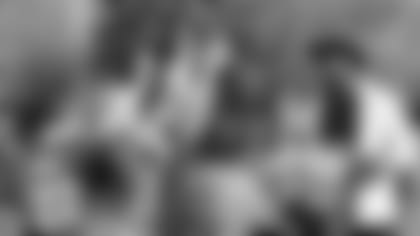 To start off the morning, students in the sixth grade headed outside to "Play 60" by taking part in a variety of football and fitness drills led by Bennett and Green.
After an hour, the kids went inside to the school library to "Read 20" as Bennett and Green alternate reading the first few chapters of Green's latest novel, Kid Owner. They also talked to the kids about the positive impact reading has on building academic strength and character.
After successful pilot programs in Chicago and New York in 2014, Play 60/Read 20 events will also take place in New York, Dallas, Arizona and Atlanta this fall.
Play 60 is the NFL's youth health and fitness campaign. Designed to help tackle childhood obesity, Play 60 focuses on making the next generation of kids the most active and healthy by encouraging them to get at least 60 minutes of physical activity every day. The Chicago Bears implement the Play 60 message through a variety of in-school, after-school, web-based and youth-targeted programs that emphasize the importance of physical fitness and healthy lifestyles.