FOXBORO, Mass. - Just when it seemed like the Patriots were about to cut into the Bears' early lead in Thursday night's preseason game at Gillette Stadium, veteran cornerback Tracy Porter did something about it.
With New England at the Bears' 7, running back Brandon Bolden sprinted around right end to the 3. That's where Porter wrapped him up, ripped the ball loose and alertly recovered it at the 5.
"It's very demoralizing for the opponent because they're in the red zone," Porter said following the Bears' 23-22 loss. "[They feel like they] at least they have three points. But they came away with no points. It takes away the momentum for them and gives it back to us."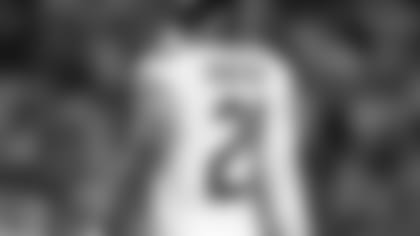 Bears Cornerback Tracy Porter


Asked when he decided to try to force the fumble, Porter said: "Once I saw the ball, he didn't have the ball in his outside hand, so that was my opportunity there and I just tried to go for it."
At the time, Porter's play helped preserve the Bears' 11-0 lead early in the second quarter.
"We preach turnovers, turnovers, turnovers," Porter said. "Forcing fumbles is a key aspect of the game. But to actually go out and do what we practice, that's why I say practice makes perfect."
On the shelf: Bears coach John Fox announced after Thursday night's game that cornerback Kyle Fuller had arthroscopic surgery on his knee and is week-to-week. Fuller did not travel with the team to New England for joint practices Monday through Wednesday and Thursday night's game.
"It was kind of getting worse and worse and didn't get any better and I'm not a big fan of doing the same old stuff," Fox said. "It was kind of bothering him, so we wanted to get it fixed. When he gets medically cleared, he will be back out there. It's hard for me to predict when that's going to be."
Second-year pro Jacoby Glenn started in Fuller's place against the Patriots but exited the game with a concussion. Others who left with injuries Thursday night included tight end Tony Moeaki (hamstring) and receiver Deonte Thompson (knee/ankle).
Stepping up: With Zach Miller held out of his second straight preseason game, tight end Rob Housler made the most of expanded playing time. The sixth-year pro caught a two-point conversion pass from Jay Cutler and later turned a short throw from Brian Hoyer into a 52-yard gain.
"We practiced all week against this team, so we kind of have a good idea of what they're going to do," Housler said. "The coaching staff did a good job of putting us in position to be successful. The quarterback and I hooked up and just made the most of it."
Housler's performance Thursday night could enhance his chances of earning a roster spot with the Bears or another team.
"That's the NFL; every play is an evaluation, whether it's the Bears or the 31 other teams," Housler said. "Just being on tape is good and going out there and just performing. That's kind of the mindset of the tight ends."
On the sidelines: In addition to Fuller and Miller, other Bears who did not suit up due to injuries included receivers Marquess Wilson and Eddie Royal, running backs Ka'Deem Carey and Senorise Perry, inside linebackers Danny Trevathan and Nick Kwiatkoski, outside linebacker Pernell McPhee, tight end Ben Braunecker and defensive end Cornelius Washington.
This and that: The Bears excelled covering kickoffs as Jacquizz Rodgers dropped V'Angelo Bentley at the Patriots' 15 and Joshua Bellamy tripped up James Develin at the 12. The Bears' third-down defense made a huge leap, allowing the Patriots to convert just 2-of-10 opportunities after permitting the Broncos to covert 6-of-14 chances a week earlier. Patriots tight end Martellus Bennett caught two passes for 26 yards against his former team.