The Bears remain hopeful that receivers Alshon Jeffery, Eddie Royal and Marquess Wilson will be available when they open the season by hosting the Packers Sunday at Soldier Field.
All three wideouts practiced on a limited basis Friday for the third straight day and were listed as questionable, meaning there's a 50 percent chance they'll play against Green Bay. (Click here for full injury report.)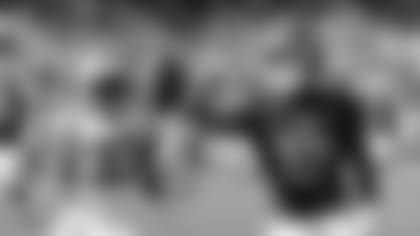 Alshon Jeffery as he scored a touchdown against Green Bay in 2014.
The Bears will conduct a walkthrough Saturday at Halas Hall and won't set their active roster until a couple hours before kickoff Sunday.
"I think we'll do a little bit more [at the walkthrough] maybe than some people do," said coach John Fox. "We'll see what that brings and then we'll have a training room set up in our team hotel [Saturday] night. Really I don't solidify on the inactives until we get to Sunday morning."
Jeffery returned to practice Wednesday for the first time since hurting his calf in a walkthrough Aug. 12, the day before the preseason opener. Fox said the Bears were extra cautious with Jeffery Friday because the grass was wet and slippery, but "he looked pretty good at what he did."
Royal and Wilson were both back at practice Monday. Royal missed nearly two weeks with a hip injury, while Wilson had been sidelined since hurting his hamstring Aug. 22 in a preseason win over the Colts.
If backup receivers Joshua Bellamy Marc Mariani and Cameron Meredith are forced to play Sunday, at least they can draw upon the experience they gained with the No. 1 offense while filling in for Jeffery, Royal and Wilson the past several weeks.
"We got a lot of work at it through the preseason, so there ought to be some chemistry built," Fox said. "I'm staying optimistic about the availability of all of our guys. We'll wait and see and we'll have to adjust [if need be]. That's what we do."
In other injury news, outside linebacker Sam Acho (illness) and cornerback Tracy Porter (hamstring) have been ruled out of Sunday's game; linebacker Jonathan Bostic (ankle) is questionable; and tackle Jermon Bushrod (back), quarterback Jimmy Clausen (head) and defensive tackle Eddie Goldman (head) are probable.
Bushrod has been occasionally held out of practice while dealing with back issues.
"Anytime you have a veteran player, getting them to Sunday is the key thing," Fox said. "My experience has been whatever that takes. So we'll monitor that. I'm sure it's not going to go away next week or in three weeks. But that's just kind of our duties both inside the training room, medical people and the coaching staff to get guys ready for Sunday."
Leading the way: Fox has been pleased with the leadership role that veteran safety Antrel Rolle has assumed in his first season with the Bears, especially in helping rookie safety Adrian Amos.
"He's played that role all along," Fox said. "I think the fact that he's a new player to us and to the Bears and voted captain probably speaks to the magnitude to what that's been."
Now that Amos is more familiar with the Bears defense, the fifth-round draft pick from Penn State is able to let his natural ability take over.
"He's gotten more comfortable in our system," Fox said. "I think whenever you're learning, it slows you down some. I think once you have a pretty good working knowledge of what your job description is, it's a little more fluid. So I've seen steady progress with how fast he plays. That's a key component to playing our game."
Common knowledge: Fox understands how important the Bears-Packers rivalry is to the McCaskey family, especially after Green Bay scored 93 points in two blowout wins last season.
"I think that's fairly common knowledge," Fox said. "Obviously when the matriarch of our organization (Virginia McCaskey) comes out and is not real happy with the way things have gone, I think some of that is probably relative to the two games against our opponents this Sunday. That message is pretty loud and clear."
In memory: Fox wore an "NYPD" hat Friday to commemorate the 14th anniversary of the Sept. 11 terrorist attacks. Then in his fifth and final season as Giants defensive coordinator, Fox knew some of the first responders who perished in the attacks at the World Trade Center in New York.
The Giants arrived back home a few hours before the attacks following a season-opening Monday night loss to the Broncos in Denver. Fox told reporters that he could see smoke billowing out of the twin towers from the Giants training facility across the river in New Jersey.