After becoming the first Bears receiver to compile 100 yards in back-to-back games since 1999, Brandon Marshall hopes to make the same type of impact Monday night against the Detroit Lions.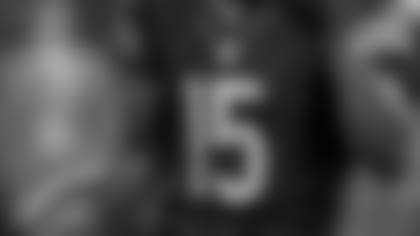 Brandon Marshall has tallied 496 yards and three touchdowns in five games.
"When I get my opportunities, [I have to] just catch the ball," Marshall said. "It seems like it's easy to do, but someone gave me a stat where I hadn't had back-to-back 100-yard games since 2010. That was pretty fun to see, so hopefully we can take advantage of our opportunities."
In road wins over the Cowboys and Jaguars, Marshall had 19 receptions for 282 yards and two touchdowns. He did most of his damage in the second half of those games, catching 13 passes for 207 yards and both of his TDs. In several cases, the Bears were protecting a lead against a defense that was stacking the box against the run, leaving Marshall in single coverage.
"It's tough when teams are trying to take you out," Marshall said. "You look at some of the top receivers in the league, and I think you'll see some of the same. Watch [the Lions'] Calvin [Johnson]. Teams are holding him to 20-30 yards in the first half and then [he gets] going later."
While Marshall's 12 receptions against the Jaguars were 10 more than any of his teammates had, quarterback Jay Cutler generally isn't throwing into double coverage.
"What I like about what we're doing is we're not trying to force me the ball," Marshall said. "When we do that, we may make some mistakes. We're relying on the guys around us to make some plays, and when I get my opportunity we'll take advantage. If they're going to double me and play two-man or slide to me, we're going to go the other way. So that's a great team game-plan, and I'm glad that we have that philosophy here."
With 35 receptions for 496 yards in five games, Marshall is on pace to shatter single-season Bears records with 112 catches and 1,587 yards. He and Cutler have picked up where they left off in Denver, when they developed into Pro Bowlers together as Broncos teammates from 2006-08.
"It's special playing with Jay," Marshall said. "We have a great feel for each other as far as what holes to sit in and how to make adjustments on the run. You have to do that in this league. We have great coaches and we rely on them, but there are also some times where you have to make plays."
Marshall credits offensive coordinator Mike Tice with lining him up in different spots to keep defenses off balance.
"It makes it hard for them to pinpoint me," Marshall said. "When you motion and you get thrown in the slot or motion to the slot or motion across the formation, it definitely makes it hard. When you just sit in one spot, they know where you're at. It's easy for them to game-plan you.
"Coach Tice is doing an amazing job. I just told him last week he's doing a great job of just making it hard on the defensive guys, coaches included. I'm in a good spot here."
In two career games against the Lions in 2007 and 2010, Marshall caught 19 passes for 198 yards. But that was before an aggressive defense fueled Detroit's resurgence last year, leading to the franchise's first playoff berth since 1999.
"That front seven is amazing—maybe the best in the league—and their secondary, they benefit from that pass rush," Marshall said. "Those guys are feisty, they're hungry, and they want to make their mark in this league.
"You can see it on film how they're attacking the ball and how they're tackling, so I'm excited about this game and how physical it's going to be."
Marshall is also excited about playing on Monday Night Football because he relishes the national spotlight.
"I'd be lying if I said I didn't," he said. "I'm watching some of the Monday Night Football commercials and they have [Johnson] and me matched up. It's pretty cool. I look at it as an honor. I definitely love some attention. But when you have the spotlight on you, you have to show up and you have to perform. It definitely makes it harder, but I enjoy it."