The Bears on Tuesday honored linebacker Robert Quinn and running back Khalil Herbert as the 2021 winners of the prestigious Brian Piccolo Award during a ceremony at Halas Hall.
The honor has been given to a Bears rookie since 1970 and was expanded in 1992 to include a veteran. Bears players vote for teammates who best exemplify the courage, loyalty, teamwork, dedication and sense of humor of Brian Piccolo, a Bears running back who died from embryonal cell carcinoma on June 16, 1970, at the age of 26.
No Bears player had a more impressive 2021 season than Quinn. The veteran outside linebacker set a franchise record with 18.5 sacks, eclipsing Hall of Fame defensive end Richard Dent's 17.5 in 1984. Quinn registered at least a half sack in 14 of 16 games played, including 12.0 in the final eight contests—a total that would have led the Bears in every season since 2007, except for 2018 when Khalil Mack compiled 12.5 sacks.
"It's definitely an honor to be nominated for this," Quinn said, "so thank you to the McCaskey and Piccolo families and my teammates for voting for me."
Last season Quinn was named to his third Pro Bowl and voted second-team All-Pro. He was also chosen the NFC Defensive Player of the Month for November after compiling 5.5 sacks, 14 tackles, five tackles-for-loss and two forced fumbles in three games.
Quinn also excelled defending the run; he amassed 49 tackles and a team-leading 17 tackles-for-loss. His 18.5 sacks and 17 tackles-for-loss were the second most of his 11-year NFL career, topped only by his 19.0 sacks and league-leading 23 tackles-for-loss in 2013 with the Rams when he was voted first-team All-Pro and named to the Pro Bowl.
As a sixth-round draft pick, Herbert exceeded expectations as a rookie last season, especially when he filled in for injured starter David Montgomery.
In four games as the Bears' primary ballcarrier from Weeks 5-8, Herbert rushed for 344 yards, the fourth most by an NFL running back during that span. He finished the year running for 433 yards and two touchdowns on 103 carries, catching 14 passes for 96 yards and averaging 24.1 yards on 17 kickoff returns.
"I'm honored to receive this award," Herbert said. "I just want to say thank you to the McCaskey family, the Piccolo family and the Bears organization for allowing me to be a part of this rich tradition. Embodying loyalty, teamwork and dedication is something I always strive for on and off the field, so I'm honored to receive this award.
"I also want to thank my teammates for voting for me to be the rookie that receives this award. I will continue embodying these characteristics on and off the field and hope to make everybody proud in this room and my family back home."
Piccolo joined the Bears in 1965 as an undrafted free agent after leading the nation with 111 points and 1,044 yards rushing as a senior at Wake Forest. He was in his fifth NFL season when a chest x-ray revealed a malignancy. Piccolo passed away several months later.
Following his death, the Brian Piccolo Cancer Research Fund was established and proceeds were sent to the Sloan-Kettering Cancer Center in New York for research on embryonal cell carcinoma. At the time Piccolo died, the disease was 100 percent fatal. But thanks in part to the millions of dollars raised by the Brian Piccolo Cancer Research Fund to support testicular cancer research, the cancer now has a cure rate of 96 percent.
With that victory, proceeds from the Brian Piccolo Cancer Research Fund now benefit breast cancer research at Rush Medical Center and provide support to the Clearbrook Center for the developmentally disabled in Arlington Heights.
Since turning its attention to the fight against breast cancer, the Brian Piccolo Cancer Research Fund, as well as all those who have joined in its efforts, have raised nearly $9.9 million for research since 1991. The fund remains active and welcomes contributions from others who share its commitment to breast cancer research and to the memory of Brian Piccolo.
Bears vice president Patrick McCaskey emceed Tuesday's ceremony. Coach Matt Eberflus introduced offensive coordinator Luke Getsy and defensive coordinator Alan Williams, who presented the awards to Herbert and Quinn, respectively.
Bears owner Virginia McCaskey and chairman George H. McCaskey were also in attendance.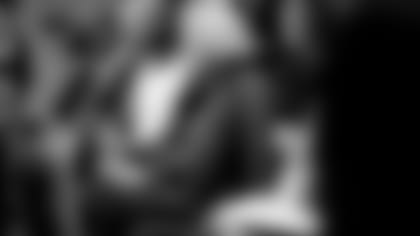 Members of the Piccolo family on hand included Joy Piccolo O'Connell, Brian Piccolo's widow, and two of their three daughters, Traci and Kristi.
Previous winners of the Piccolo Award who also were there included Ted Albrecht, Roland Harper, Jim Osborne, Mickey Pruitt, James Thornton and Tom Waddle.
Every season, the Brian Piccolo Award is given to one rookie and one veteran who best exemplifies the courage, loyalty, teamwork, dedication and sense of humor of the late Bears running back. Take a look at the winners of this award dating back to 1970.