The Bears on Tuesday announced that receivers Allen Robinson II and Darnell Mooney are the 2020 veteran and rookie winners, respectively, of the prestigious Brian Piccolo Award.
The honor has been given to a Bears rookie since 1970 and was expanded in 1992 to include a veteran. Bears players vote for teammates who best exemplify the courage, loyalty, teamwork, dedication and sense of humor of Brian Piccolo, a Bears running back who died from embryonal cell carcinoma on June 16, 1970 at the age of 26.
"The greatest honor that you can ever have as a player is something that's voted on and given to by your peers," Robinson said. "Those are the ones you go to work for each and every day. Those are the ones you bleed with, sweat with, have pain with, have a ton of victorious moments with."
Robinson is a highly respected team leader who is entering his eighth NFL season and fourth with the Bears. After spending four years with the Jaguars, Robinson signed with the Bears in 2018. The Penn State product has appeared in 45 games over three seasons in Chicago, catching 255 passes for 3,151 yards and 17 touchdowns.
Robinson had 55 receptions for 754 yards and four touchdowns in 2018 and followed with 98 catches for 1,147 yards and seven TDs in 2019. Last season he hauled in a career-high 102 passes for 1,250 yards and six touchdowns. The 102 receptions were the sixth most in the NFL last year and tied for the second most in Bears history.
"I don't think I truly understood the full impact that 'A-Rob' has on the team," said offensive coordinator Bill Lazor, who joined the Bears last season, "until I was here and able to be with him every single day on the practice field and every single day in the meeting room, to watch how Allen Robinson affects his teammates and to watch how Allen inspires his teammates with his knowledge of the game, his work ethic and his professionalism."
Only 23 years old, Mooney possesses those same characteristics. The Bears traded up in the fifth round of last year's draft to select the Tulane product, who emerged as an impact player as a rookie even after all offseason workouts and preseason games were canceled due to COVID-19.
One of the most pleasant surprises for the Bears in 2020, Mooney set a franchise record for most receptions by a rookie wide receiver with 61 while amassing 631 yards and scoring four touchdowns.
"When you turn on the tape—regardless of whether it's a practice or game—you feel his conviction and passion on every play," receivers coach Mike Furrey said in presenting the award to Mooney. "He came in as a rookie, yet his professionalism and leadership by example has influenced those of more established years in the NFL."
Furrey sees similarities between Mooney—an unheralded fifth-round pick—and Piccolo, who was signed by the Bears in 1965 as an undrafted free agent after leading the nation with 111 points and 1,044 yards rushing as a senior at Wake Forest.
"Too often we judge the book by its cover," Furrey said. "We fail to measure one man's heart."
In accepting the Piccolo Award, Mooney credited much of his success to his work ethic.
"Without that, I feel like I wouldn't be in this situation," he said. "I'm very grateful and honored to receive this award."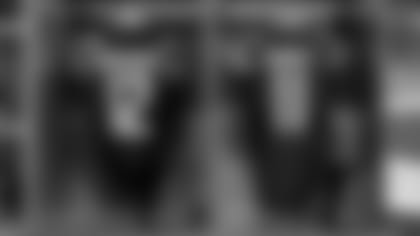 Piccolo was in his fifth season with the Bears when a chest x-ray revealed a malignancy. He passed away less than a year later. Survivors included his wife, Joy, and their young daughters Lori, Kristi and Traci.
Joy and Kristi were among those who spoke from a podium at Halas Hall during Tuesday's ceremony. Others were Bears vice president Patrick McCaskey, coach Matt Nagy, Lazor and Furrey. Robinson and Mooney participated on a virtual basis.
Piccolo joined the Bears the same year the team selected another running back, Gale Sayers, with the fourth pick in the first round of the draft out of Kansas. The two became close friends as well as the NFL's first interracial roommates. Piccolo's support of Sayers through a devastating knee injury, and Sayers' devotion when Piccolo was stricken with cancer in 1969, became legendary. Their story was chronicled in the classic TV movie "Brian's Song."
Robinson, a proponent of social justice causes, believes that the friendship between Piccolo and Sayers should be something that people in all walks of life strive for today to help create more racial harmony.
"If we continue to try to push for those things, not only in our locker room but in everyday culture and the workplace and our communities and our environment, I think that we'll be able to continue to make this world a better place," Robinson said.
"That's what makes the Brian Piccolo Award so important and so special is that when you look at the relationship that he had with a person like Gale Sayers, them being the first interracial roommates and see the bond that they created with each other and the relationship that they created with each other, things like that are special. That's what this is about, for us to be able to be teammates and be people and to go about things in that manner."
"The greatest honor that you can ever have as a player is something that's voted on and given to by your peers." Bears receiver Allen Robinson II
Following Piccolo's death, the Brian Piccolo Cancer Research Fund was established, and proceeds were sent to the Sloan-Kettering Cancer Center in New York for research on embryonal cell carcinoma. At the time Piccolo died, the disease was 100 percent fatal, but today the cure rate is more than 95 percent. 
With that victory, proceeds from the Brian Piccolo Cancer Research Fund now benefit breast cancer research at Rush Medical Center and provides support to the Clearbrook Center for the developmentally disabled in Arlington Heights. 
Since turning its attention to the fight against breast cancer, the Brian Piccolo Cancer Research Fund, as well as all those who have generously joined in its efforts, has raised over $9.9 million for research since 1991. The fund remains active and welcomes the interest of contributions of others who share its commitment to breast cancer research and to the memory of Brian Piccolo.
Every season, the Brian Piccolo Award is given to one rookie and one veteran who best exemplifies the courage, loyalty, teamwork, dedication and sense of humor of the late Bears running back. Take a look at the winners of this award dating back to 1970.