ORLANDO, Fla. – The Bears retained one of their most valuable veteran leaders Tuesday when they re-signed cornerback and special teams standout Sherrick McManis to a two-year contract.
General manager Ryan Pace also informed reporters at the NFL owners meetings that the Bears have agreed to terms with cornerback Marcus Cooper and long-snapper Patrick Scales.
The longest tenured player on the Bears roster, McManis has appeared in 84 games in six seasons since being acquired in a trade with the Texans on Aug. 31, 2012. He has recorded 80 special-teams tackles, including 38 the past three seasons, third most among all NFL players.
"It's huge," Pace said. "He's one of our best special-teams players. He's a valuable depth player on defense. But then also from a critical standpoint, the intangibles he brings and the leadership he brings on a relatively young team. He's a guy who has some skins on the wall, is a productive special teams player but also has excellent makeup."
Last season McManis tied for the Bears lead with 12 special teams tackles despite missing three games with a hamstring injury. His best performance came in a Week 3 contest against the Steelers when he recovered a muffed punt and blocked a field goal attempt, leading to 10 points in a 23-17 overtime victory at Soldier Field.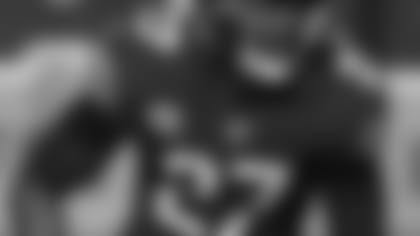 Sherrick McManis is the Bears' longest tenured player, having arrived in 2012.


"I'm excited to be back and try to help finish what I started," McManis told ChicagoBears.com. "I got some interest from some other places, but I was happy that the Bears were also interested and wanted me back because this is where I wanted to be."
Cooper had been released by the Bears March 14 after completing the first year of a three-year deal he had signed last offseason. He played in 15 games with four starts in 2017, recording 13 tackles, three passes defensed and three special teams tackles.
"We were very open and honest with him and his agents in that process," Pace said. "Marcus was kind of able to explore the market a little bit and we feel very fortunate and very happy to have him back in the mix."
"He's long. He's got really good size and he's a guy that has very good ball skills. We just think the more he gets comfortable in our defense, some of those things will come to fruition. We feel good about him. There's a reason why he's back. I think [he has] kind of a clean slate for 2018 and [we will] let him attack this offseason and kind of work himself back in."
Scales served as the Bears' long-snapper in the final five games in 2015 and all 16 contests in 2016 before missing the entire 2017 season with a torn ACL he suffered in the third preseason game.
With the return of McManis, Cooper and Scales, the Bears have now retained 13 of their own free agents. They've also re-signed outside linebacker Sam Acho, cornerback Prince Amukamara, tight end Daniel Brown, cornerback Kyle Fuller, punter Patrick O'Donnell, offensive lineman Bradley Sowell and inside linebacker John Timu; and tendered receivers Cameron Meredith and Joshua Bellamy and nickel back Bryce Callahan.
As restricted free agents, Meredith, Bellamy and Callahan can sign offer sheets with other NFL teams that the Bears have the right to match.
Meredith has reportedly made free agent visits to the Colts, Ravens and Saints. The 6-3, 207-pounder had a breakout 2016 season, catching 66 passes for 888 yards and four touchdowns. But he missed all of last year with a torn ACL he sustained in the third preseason game.
"When we tender him that way, we know these are some of the circumstances, so we're monitoring it closely," Pace said. "We know we'll have a decision to make if an offer comes in, and we're prepared for that."
The attention Meredith has garnered in free agency has not been unexpected.
"I'm not surprised," Pace said. "I think teams are probably weighing the productivity he has had in the past, along with the injury that he sustained."