The Bears made an immediate splash on the first day of free agency, announcing Wednesday that they have agreed to terms with five key players from other teams.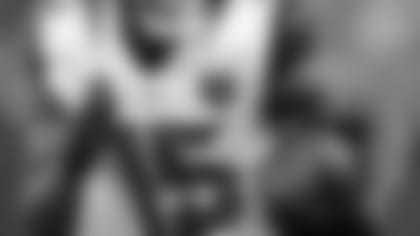 Receiver Allen Robinson runs with the ball during a 2017 game against the Colts.


Gabriel, Burton and Parkey have agreed to four-year deals, Robinson to a three-year deal and Daniel a two-year deal. All of the contracts are contingent on the players passing their physicals.
Three of the five newcomers were ranked among the top 101 NFL free agents by NFL.com. Robinson was third behind only quarterbacks Kirk Cousins and Drew Brees, while Burton (33rd) and Gabriel (67th) were also listed.
Robinson, 24, spent the last four seasons with the Jaguars, appearing in 43 games with 41 starts and catching 202 passes for 2,848 yards and 22 touchdowns. He was selected by Jacksonville in the second round of the 2014 draft out of Penn State.
The 6-3, 211-pounder had 80 receptions for 1,400 yards and tied for the NFL lead with 14 touchdown catches in 2015, earning his first trip to the Pro Bowl.
Robinson then caught 73 passes for 883 yards and six TDs in 2016, but he missed almost all of last season with a torn ACL he suffered while making his first (and only) catch of the year in a Week 1 win over the Texans.
Gabriel, 27, joins the Bears after spending his first four NFL seasons with the Browns (2014-15) and Falcons (2015-16). The speedy 5-8, 165-pounder has played in 58 games with 13 starts, catching 132 passes for 1,819 yards and eight touchdowns and rushing for 110 yards and 1 TD on 16 carries.
Gabriel caught six touchdown passes in helping the Falcons reach the Super Bowl in 2016. Last year he played in all 16 games with four starts, catching 33 passes for 378 yards and one TD and rushing for 49 yards on eight carries.
Burton, 26, spent his first four NFL seasons with the Eagles, appearing in 61 games with five starts and catching 63 passes for 629 yards and six TDs.
Last year the 6-3, 235-pounder had 23 receptions for 248 yards and five TDs. He capped the season by throwing a 1-yard TD pass to quarterback Nick Foles on a trick play in Philadelphia's 41-33 win over the Patriots in Super Bowl LII.
Daniel, 31, figures to be a valuable resource for starting quarterback Mitchell Trubisky, given that the veteran backup had new Bears coach Matt Nagy as his position coach for three seasons with the Chiefs from 2013-15. Daniel also played for the Saints from 2010-12 when Pace worked in the team's personnel department.
A career backup who has also played for the Eagles, Daniel has appeared in 57 games with just two starts in eight NFL seasons, completing 51 of 78 passes for 480 yards with one touchdown, one interception and an 81.1 passer rating.
Parkey joins the Bears after converting a career-high 91.3 percent of his field goal attempts (21 of 23) last season in his first year with the Dolphins. He has also played for the Colts, Eagles and Browns, making 76 of 88 career tries (86.4 percent).
Parkey was selected to the Pro Bowl in 2014 after establishing an NFL rookie record by scoring 150 points, eclipsing Kevin Butler's mark of 144 set while playing for the famed 1985 Bears.
Bears special teams coordinator Chris Tabor served in the same role in Cleveland when Parkey played for the Browns in 2016.
Last season Bears kickers Connor Barth (11 of 16), Cairo Santos (1 of 2) and Mike Nugent (4 of 4) combined to convert 16 of 22 field goal attempts (72.7 percent).