Bears running back Jeremy Langford wanted to do something to give back during this Thanksgiving season, so on Tuesday, November 22, he recruited three of his fellow running backs—Jordan Howard, Paul Lasike and David Cobb—and the group headed to the Salvation Army's Freedom Center on Chicago's west side.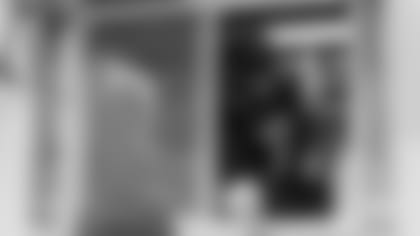 Jeremy Langford helping give back at the Salvation Army's Freedom Center.


The players joined volunteers who are part of the Salvation Army's Mobile Feeding Unit, where they went out into the community and helped serve hot soup, bread and snacks to those who are homeless and in need. Each day the Mobile Feeding Unit serves more than 800 meals – nearly a quarter of a million meals in a year.
After returning to the Freedom Center, the players spent time visiting with residents of the facility. The Salvation Army Freedom Center houses four major Salvation Army programs – the Substance Abuse Rehabilitation Program (Harbor Light Center), the Community Corrections Program (Pathway Forward), and a Corps Community Center (Harbor Light Corps Community Center). It also serves as the base of operations for the Mobile Feeding and Outreach Program.
Following the visit to the Freedom Center, Langford hosted four families with the Chicago Housing Authority at a local grocery store. He provided each family with a gift card for $150, and helped them shop for groceries and food for Thanksgiving dinner.