The Chicago Bears rookies are busy studying their playbooks and acclimating to life in the NFL, but on Friday, May 23 they took some time off from the football field to learn more about their new community. The entire 2014 Bears Rookie Class, including Cody Booth, Ka'Deem Carey, James Dunbar, Brandon Dunn, David Fales, Ego Ferguson, Kyle Fuller, Ryan Groy, Christian Jones, DeDe Lattimore, Charles Leno, Jordan Lynch, Patrick O'Donnell, Tana Patrick, Lee Pegues, Senorise Perry, Will Sutton, Marcus Trice and Brock Vereen, spent their morning visiting with veterans at the Captain James A. Lovell Federal Health Care Center in North Chicago, as well as current members of the U.S. Navy at Naval Station Great Lakes in honor of Memorial Day.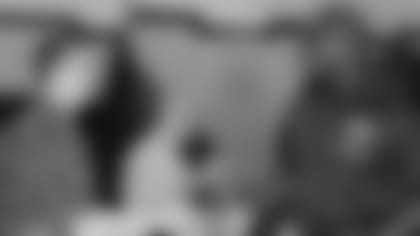 Ego Ferguson
This was the first of many activities that the Bears rookies will participate in as part of the "Rookie Rally" program. This program was created by the Bears Community Relations department to involve the team's first-year players, as a group, in charitable activities throughout the season. The "Rookie Rally" program helps the rookies learn more about their new community, serve several worthwhile charitable organizations in the area, and bond together through volunteerism.
The Captain James A. Lovell Federal Health Care Center is a first-of-its-kind partnership between the U.S. Department of Veterans Affairs and the Department of Defense, integrating all medical care into a fully-integrated federal health care facility with a single combined VA and Navy mission. A combined mission of the health care center means active duty military, their family members, military retirees and veterans are all cared for at the facility.
Naval Station Great Lakes, the largest military installation in Illinois and the largest training station in the Navy, hosts the Navy's only Recruit Training Command. Each year approximately 38,000 men and women complete the requirements to become enlisted Navy Sailors at the Navy's only boot camp. Naval Station Great Lakes is also home to the Navy's technical training schools for surface warfare excellence supported by Training Support Center Great Lakes.