Fuel Up to Play 60 is an in-school nutrition and physical activity program that was launched to make a difference in the lives of students. There are currently 73,000 schools participating nationwide, including 3,600 schools locally in Illinois. Fuel Up to Play 60 is designed to engage and empower youth to take action for their own health by implementing long-term, positive changes for themselves and their schools. Students are inspired to consume nutrient-rich foods and achieve at least 60 minutes of physical activity every day.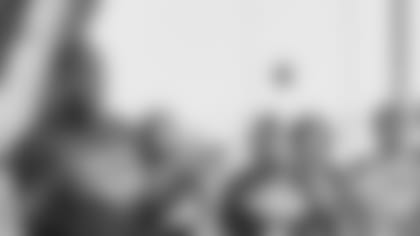 Sam Acho attends a Play60 event at Halas Hall.


Throughout the 2016-2017 school year there were many opportunities for schools to earn rewards and apply for funds. Hundreds of school wellness champions and students attended a Bears Play 60 game and had a mascot or player visit their school. Some were also able to participate in a Fuel Up to Play 60 Program Advisor Training Camp, Bears All Access radio show or one of the many other special events at Halas Hall. This year, 145 Illinois schools reached Fuel Up to Play 60 "Touchdown" status, which equates to achieving the highest level of engagement in Fuel Up to Play 60!
Illinois schools also received more than $200,000 in grants and cash rewards to purchase equipment and materials to enhance school meal programs and add more physical activity opportunities. In addition to using these funds during school hours, some utilized the funds for before or after school programs. Four Chicago Public schools were the recipients of the $10,000 NFL Hometown Grant and 95 schools received NFL flag football kits.
Fuel Up to Play 60 was launched by National Football League and National Dairy Council. For more information and how you can get involved, visit FuelUpToPlay60.com or contact Dairy Council@MidwestDairy.com.