Staley Da Bear ranks as the all-time funniest, friendliest, fuzziest, funkiest bear in the history of the NFL. He currently leads the Bears in most t-shirts shot into the crowd (1,920), most costume changes in a single season (77), longest butt bounce (40 yards), most high fives (34,051,054.06), most autographs signed (16,726), and the most dance moves (). He is currently tied with Larry Mayer for most laughs. Named a five-time Pro-Bowl mascot (2004, 2007,2009,2010,2013), Staley Won a gold medal for rock-paper-scissors and a silver medal in the staring contest at the Celebrity Mascot Olympics.
*(exceeds infinity)*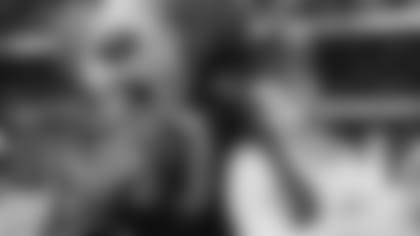 Staley posing for the camera with NASCAR driver Danica Patrick.
COLLEGE CAREER
Staley has yet to attend College. Unfortunately most universities prohibit the admission of bears. Staley did however "attend" the circus. His tickets where excellent. The popcorn wasn't bad either. Staley was not impressed with the elephants.
Staley currently holds all-time elementary records for fewest pencils sharpened (2), longest kickball homerun (368FT), largest desk, largest Trapper-Keeper, and most consecutive thumb wrestling victories (54). He was voted "most likely to become a mascot" and "best hugger" for five consecutive years.
PERSONAL
Staley is responsible for entertaining Bears fans young and old. He especially loves to "bust-a-move" and shake what his mama bear gave him. Staley occupies most of his free time by entertaining Bears fans at schools, birthday parties, weddings, and other events around the world.
He enjoys exercising, playing the drums and is highly skilled with a fishing pole. His best friends are Pooh, Smokey, and Yogi. His former girlfriends include Britney Sbears, Bearonce and Christina Aguibeara.
Born: Near a lake in a forest
Favorite TV show: Grizzly Adams
Favorite movie: Bad News Bears
Favorite Food: Cheese Heads
Favorite song: "The Bear Necessities"
Current musician playing on Staleys MP3 player: Chuck Berry
Things you might not know: Staley is named after the original name of the Chicago Bears franchise - The Decatur Staleys. In 1921, while under the ownership and direction of George Halas, The Decatur Staley's relocated and became known as the Chicago Staley's. In 1922 the franchise took the name the Chicago Bears.
Staley's perfect Sunday: "My idea of a perfect Sunday is staying home and inviting 60,000 of my closest friends over to watch a Bears game."
TRANSACTIONS
Drafted in the first round of 2003
spent $200 last week on salmon
Yesterday Staley had a debit transaction for a Subway Fresh-Fit meal…and gas for his scooter.
STATS
Jersey number: 00
Height: Tall
Weight: Heavier than you!
Waist: 65 inches
Pants: 5XL…when he wears pants!
Shirt size: 4XL
Shoe size: Bears don't wear shoes!
Eyes: Orange and Blue
Hair Color: Cinnamon
Number of teeth: 2
40 yard dash: Staley takes his time
*Staley performs at over 300 public and private events throughout the world every year!