Choosing which charity to support for the NFL's "My Cause My Cleats" initiative this weekend was an easy decision for Pat O'Donnell.
The Bears punter will use his platform to increase awareness for the Jake Gittlen Cancer Research Foundation, a non-profit organization that has raised nearly $30 million since it was created by his wife Shelby's maternal grandfather 51 years ago.
Warren Gittlen and his father, Jake, shared a passion for golf. So, after Jake passed away due to lung cancer in 1970, Warren—a former captain of the Penn State golf team—established the Jake Gittlen Memorial Golf Tournament in his father's honor.
The first event raised $2,500 that was donated to Dr. John Kreider, a pioneering research scientist at the Penn State College of Medicine. The annual fundraiser was ultimately held for 49 years, becoming the longest continuously running amateur golf tournament in the United States.
The funds raised throughout the years continued to support Dr. Kreider, whose studies on the human papillomavirus (HPV) contributed to the development of the HPV vaccine Gardasil in 2006.
In the mid-1990s, Warren Gittlen helped found the Jake Gittlen Laboratories for Cancer Research at Penn State Cancer Institute in Hershey, Pa. To this day, the facility continues to house researchers seeking cures for different kinds of cancer.
Warren Gittlen passed away April 14, 2018 at the age of 84. But his legacy lives on—and it's one that O'Donnell is proud to honor.
"It just shows how one man wanted to change the world, and he did it," O'Donnell said. "He found a cure for HPV, and we're hoping it will change other people's lives and they'll find a cure for other cancers."
O'Donnell was blown away when he visited the Jake Gittlen Laboratories for Cancer Research two years ago.
"I had heard about the lab and had heard about the doctors like a billion times, but I never really understood it fully until walking in there," O'Donnell said. "It was way bigger than I expected, with way more lab technicians and scientists. Seeing them all in these rooms, [spending] tedious hours just trying to find a cure, it was shocking to me, just the time and effort people put into that."
The shoes that O'Donnell will wear during pregame warmups Sunday when the Bears host the Cardinals feature a silhouette of Jake Gittlen holding a golf club, a teddy bear that was given away by the foundation at a children's hospital and a Penn State logo. On the back of one shoe is the head of a golf club and on the other is a Hershey's chocolate bar. (Remember, the facility is located in Hershey, Pa.)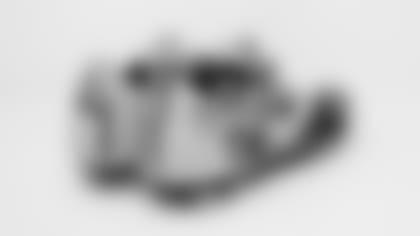 O'Donnell is happy the NFL is giving him the opportunity to raise awareness for the Jake Gittlen Cancer Research Foundation.
"Our platform is huge," he said. "Being able to do 'My Cause My Cleats' is a fun thing and it goes miles for the charity itself. It's amazing. I admire all the guys that have different charities on the team."
The involvement of his wife's family isn't the only reason that cancer research hits close to home for O'Donnell. His father, Terry O'Donnell, passed away Sept. 19, 2017 at the age of 61 after an 11-year battle with colon cancer.
Later in the 2017 season, O'Donnell participated in My Cause My Cleats at a home game against the 49ers by honoring the Cleveland Clinic in South Florida, the facility where his father was treated.
"This is obviously near and dear to my heart, watching my dad struggle for 11 years with colon cancer," O'Donnell said. "I wish that I could start an amazing charity like [Warren Gittlen] did, and this is why I chose to support them as much as I can because they're a fully functioning lab and they're doing amazing stuff. So, just driving more and more awareness to them is the best I can do."
To donate to the Jake Gittlen Cancer Research Foundation, you can make a check out to the Jake Gittlen Memorial Fund and mail it to:
Jake Gittlen Memorial Fund
1062 Bomar Court
Mars, PA 16046
Several other Bears players are participating in My Cause My Cleats. Take a look at this photo gallery to see their cleats and the causes they're representing:
Several Bears players and coaches have helped design special footwear for the team's My Cause My Cleats game on December 5th. Take an exclusive look at each person's custom spikes, which have been created to support a charitable organization of their choice.