As part of the Bear Hugs program, Chicago Bears mascot Staley Da Bear and members of the Bears organization visit a different local children's hospital each month to deliver teddy bears and lift the spirits of young patients and their families.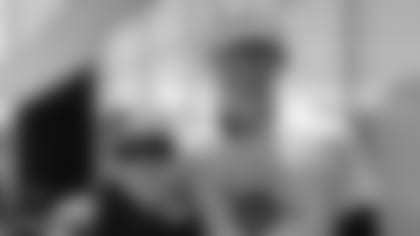 Haley Lichter and Bears head coach Marc Trestman
During a recent visit to Advocate Children's Hospital – Park Ridge, Head Coach Marc Trestman and Chairman George H. McCaskey met Haley Lichter, an extraordinary 18-year-old girl who is battling brain cancer. Inspired and impressed by her toughness and positive attitude, the Bears invited Haley and her family to be their personal guests at an OTA session at Halas Hall on Thursday, June 5.
The Lichters enjoyed lunch in the Bears Café before heading out to the field to watch practice. Afterwards, the entire team stopped over to meet Haley, spending time chatting with her, taking photos and signing autographs. New Bears defensive end Jared Allen went a step further when he asked his teammates to sign his practice jersey and then presented it to Haley as a keepsake of her day at Halas Hall.
"The players are just genuinely nice big teddy 'Bears,' and it was an amazing experience," said Haley. "And I greatly appreciate it when organizations use their time and energy to spread awareness for pediatric cancer, especially pediatric brain cancer."