The Bears 2019 Rookie Class led the charge in the community this week, while the organization continued to support youth and high school football programs.
Playground Build: Volunteers from PNC and the Chicago Bears, including Chairman George H. McCaskey and members of the 2019 rookie class, joined together to help plant shrubs and trees and install a mini PNC-Bears themed football turf field and new play area equipment at Chicago Commons–Nia Family Center. The playground restoration was made possible by grants provided by the State of Illinois, City of Chicago, PNC Foundation, Bears Care, F.B. Hubachek, Jr. Trust, Peter Dodge Horne and Frances Thorne Horne. The more than half-acre green space will be repurposed by the community for family-friendly events.
Magellan Champion of the Game: Representing the Make-A-Wish Foundation, 15-year-old Sam Buono, who battles a life-threatening immune disorder, visited Halas Hall to watch practice and was honored during the Bears vs. Chargers game at Soldier Field. Prior to the game, Sam had a chance to meet his favorite all-time Bear, Brian Urlacher.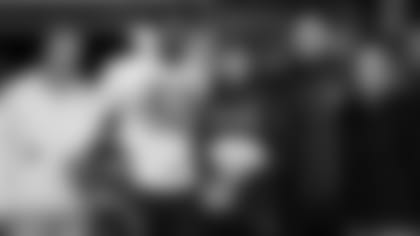 Mini Monsters Clinics: The Bears hosted three Mini Monsters Clinics brought to you by Advocate Health Care. Eddy Pineiro helped out with the clinic at Glen Flora Elementary School, while alumni Fabien Bow and Ray McElroy assisted at Gregory Elementary School and Oakdale Elementary School, respectively. Local police officers also helped out at the clinics in Waukegan. So far this year, more than 10,000 kids have participated in Mini Monsters Clinics, which is a free 90-minute youth program that stresses the importance of healthy eating, physical activity and proper hydration through fun, non-contact football drills.
High School Coach and All-Star of the Week: Bob McMillen of St. Francis High School in Wheaton, IL, was named the Chicago Bears High School "Coach of the Week" for Week 8 and running back running back Mar'Kiese Irving of Hillcrest High School in Country Club Hills, IL was named the Chicago Bears "High School All-Star." McMillen helped lead the Spartans to a 20-19 victory last week vs. IC Catholic Prep (7-1), snapping the Knights' 33-game win streak. Irving tallied 302 yards, ran for two touchdowns, threw a touchdown pass and collected an interception last week in Hillcrest's 32-36 win at Lemont (6-2), which previously had allowed only 53 points this season. The "Coach of the Week" and "High School All-Stars" programs are brought to you by Athletico Physical Therapy.