The Chicago Bears kicked-off our longest standing community program while continuing to work with and support military organizations throughout Chicago.
Chicago Bears/Jewel-Osco Coat Drive: The 31st annual Chicago Bears/Jewel-Osco Coat Drive kick-off on Monday, November 11. New and gently used coats can be donated at 188 participating Jewel-Osco locations throughout Chicagoland now through February 28, 2020. Bears Fit (155 E Townline Rd., Vernon Hills) will also accept donations. Wm. Meyers Movers donated the collection bins and transport logistics. All coats will benefit the Salvation Army. For more information, please visit chicagobears.com/community.
Helping Heroes: Kerrith Whyte Jr. helped collect donations from Mundelein High School students and stock the shelves of their new welcome center, which invites members of the community in need to pick up necessities such as free clothing, food and other items.
Chicago Furniture Bank Visit: Representatives from I Grow Chicago and community residents had the opportunity to shop for furniture from the Chicago Furniture Bank. Bears Care and the Chicago Bears, through the NFL Foundation, provided an $80,000 grant to I Grow Chicago for the construction of the Family Resource House, which opened in August and aims to empower, educate and employ women and mothers to become community leaders. During construction, residents of I Grow Chicago also learned from the contractors on-site and were paid to assist throughout the rehabilitation process. The Chicago Furniture Bank provides dignity, stability, and comfort to Chicagoans moving into supportive housing by allowing clients to handpick entire homes' worth of furniture; they are a Bears100 Community All-Pros and received a $100,000 grant.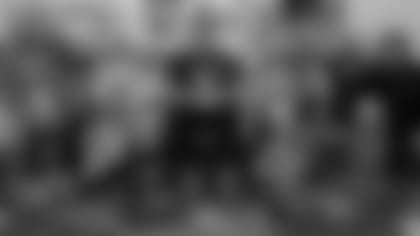 Easterseals DuPage & Fox Valley Playground Groundbreaking: Ryan Nall helped break ground on a playground being built at the Easterseals DuPage & Fox Valley location. He also had a chance to visit with kids at who are part of the program. Easterseals DuPage & Fox Valley's mission is to enable infants, children and adults with disabilities to achieve their maximum independence, and to provide support for the families who love and care for them; they are a Bears100 Community All-Pros and received a $100,000 grant.
Children's Hospital Visit: More than 20 players visited with patients at a local children's hospital, bringing them teddy bears, blankets, hats and smiles.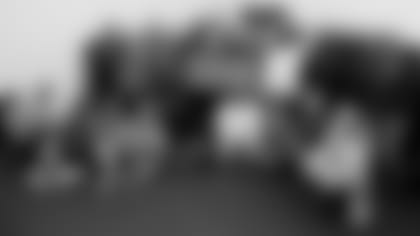 MVP Alumni Workout: Bears and Lions alumni joined veterans for a Merging Vets and Players workout and discussion on Saturday prior to the Bears vs. Lions game. MVP brings combat veterans and former professional athletes together to tackle the transition together. The Bears also presented MVP with a $5,000 donation.
Road Home Program: Bears Care volunteers packed over 100 welcome bags to be delivered to the Road Home Program for veterans coming to Chicago to participate in future Intensive Outpatient Programs. Bags included toiletries, gift cards, Bears items and notes of gratitude and encouragement from Bears staff. Bears alumni and Bears Care volunteers will visit with veterans participating in the Road Home Program's IOP to deliver gift bags and join their luncheon. Road Home Program is one of only four centers nationally to offer the IOP, which is a full-spectrum, three-week treatment program connecting veterans to individualized care for trauma-based disorders, including traumatic brain injury, PTSD and MST. Bears Care has awarded $100,000 annually to Road Home Program since it opened its doors in 2014.