The Bears and Bears Care were active in the community this week continuing to support military and education initiatives and programs.
Symetra Heroes in the Classroom: During the 2019 Bears season, 16 exceptional K-12 teachers will be honored through the Symetra Heroes in the Classroom program. As part of the award, the Heroes will receive two tickets to a Bears home game, be recognized at Soldier Field and receive a $2,000 donation for their classroom. Recently honored teachers who will be recognized at the Bears vs. Giants game are Maggie Nichols and Jenny Bell from Meadowview School. Symetra Heroes in the Classroom ® is presented locally by Arthur J. Gallagher.
Pro vs. GI Joe Tournament: In partnership with Pros vs. GI Joes, Anthony Miller and Tarik Cohen teamed up with active military from the Chicago area in a Madden tournament at Halas Hall to compete against other NFL players/military. Pros vs. GI Joes is a 501c3 nonprofit organization that connects professional athletes to play live video games with active military and veterans, home or away.
Dovetail Project: Members of the Dovetail Project visited Halas Hall to watch practice. The program gives African American fathers, ages 17 to 24, the skills and support they need to be better fathers for their children and better men in their communities. The young men whom the program recruits are often unemployed, housing insecure or have a criminal history, all significant barriers to becoming a highly-involved father.
Road Home Project: Bears alumnus Chris Zorich and Bears Care volunteers visited with veterans participating in the Road Home Program's Intensive Outpatient Program (IOP) to deliver gift bags and join their luncheon. Road Home Program is one of only four centers nationally to offer the IOP, which is a full-spectrum, three-week treatment program connecting veterans to individualized care for trauma-based disorders, including traumatic brain injury, PTSD and MST. Bears Care has awarded $100,000 annually to Road Home Program since it opened its doors in 2014.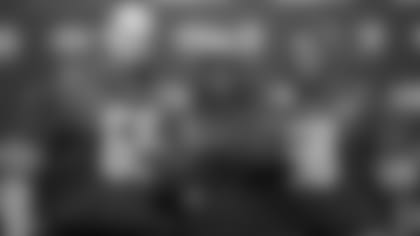 Veterans Luncheon at Halas Hall: The Bears, Campbell's Chunky and Jewel-Osco hosted approximately 20 veterans from the Midwest Shelter for Homeless Veterans at Halas Hall for a tour of the facility and lunch with Roquan Smith and Cody Whitehair. Midwest Shelter for Homeless Veterans is a Bears100 Community All-Pro and aims to end veteran homelessness in northeast Illinois and neighboring communities, so that no person who has defended our homes goes without a home; they received a $100,000 grant.
Bears School Outreach: Through a partnership with Youth Guidance, Chicago Bears players make regular visits to Chicago Public Schools during the season to speak to, motivate and interact with students who are part of the Becoming A Man® (BAM®) and Working On Womanhood℠ (WOW) programs, which serve 13,000 CPS students. This week, Sam Mustipher and Stephen Denmark visited Florence Nightingale School and Hancock High School, respectively. Bears School Outreach visits are brought to you by Olivet Nazarene University.
USO Teen/Tween Whirly Ball Tournament: Former Bear Brandon McGowan competed in a whirly ball tournament with youth from the USO Teen/Tween program, which serves pre-teen and teenaged children of military service men and women. The program provides fun activities for children who typically move at least once every couple of years and are forced to adapt to new surroundings, as well as the added stress of separation from family due to multiple deployments.