The Bears offense performed very well in Monday night's 34-18 win over the Cowboys, but quarterback Jay Cutler and his teammates aren't going to hurt their arms patting themselves on the back.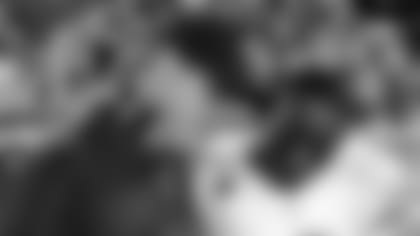 Mike Tice says he's focusing on the improvements that need to be made ahead of Sunday's game in Jacksonville.
While Mike Tice was especially pleased with Cutler, his receivers and the pass protection in Dallas, the Bears offensive coordinator is focusing instead on the improvements that need to be made in preparation for Sunday's game in Jacksonville.
Tice is hoping to avoid a repeat of what transpired from Week 1 to 2 when the Bears followed a 41-point performance in a win over the Colts with a lackluster outing in a loss to the Packers. At the time, he described it as going from the penthouse to the outhouse.
"We made some steps forward [against the Cowboys]," Tice said. [But] I think it's very important to learn from the last time we had a solid game on offense and myself included probably got a little ahead of ourselves and probably got a little full of ourselves.
"We want to make sure that we caution [against] that this week and make sure that we stay focused on the areas that we can improve on and not smile and be happy about the things we did well. It's too short a week to do that."
Tice wants to see more production from the ground game, especially on first down. The Bears rank 28th in the NFL with an average of 3.4 yards per rush and remain last in the league with an average gain of only 4.0 yards on all first-down plays.
"We're not running the ball well enough on first down," Tice said. "We're going to continue to run it and continue to try to find the personality that we're going to have as a run team. It shouldn't take this long, but it is, so football-wise I think that's the most important thing that we can focus on in this short week, making sure we can run the ball efficiently on first down."
With their passing game, the Bears hope to pick up in Jacksonville where they left off in Dallas. Against the Cowboys, Cutler completed 18 of 24 passes for 275 yards with two touchdowns, no interceptions and a 140.1 passer rating that was the third highest of his seven-year NFL career.
Like he did after the game and on his radio show Tuesday, Cutler again credited the Bears offensive line Wednesday during his weekly press conference.
"They played great," Cutler said. "You're never really sure exactly how good someone played or how bad someone played until you look at the tape. I felt good after the game that they played really well and looking at the tape this morning and after the game they played extremely well.
"They're getting better and better each week. I thought J'Marcus [Webb] played well, Gabe [Carimi] played really well. The interior guys are holding up. As a group, they're meshing a lot better week-in and week-out, and we've got to continue to get better. That's what it's all about."
Pro Bowl receiver Brandon Marshall caught seven passes for a season-high 138 yards and one touchdown in Dallas. But Cutler spread the ball around as receiver Devin Hester had three receptions for 38 yards including a 34-yard touchdown, tight end Kellen Davis caught three passes for a career-high 62 yards, and rookie receiver Alshon Jeffery added three receptions for 32 yards.
"I think week-by-week teams are going to try to take [Marshall] away and just make those other guys make plays," Cutler said. "The philosophy behind that is they're going to bet that defensively they can cover those guys and not let [Marshall] beat them. That's what we're seeing a lot of.
"But we have a lot of belief in our guys; in Kellen, in Alshon and 'D-Hest' and Matt Forte. All those guys we think can make plays."