Cornerback Charles Tillman has been named the NFC defensive player of the month for October after helping lead the Bears to a 4-0 record by returning two interceptions for touchdowns, and holding Lions Pro Bowl receiver Calvin Johnson to three receptions for a season-low 34 yards.
Tillman's TDs came on returns of 25 yards in Dallas and 36 yards in Jacksonville in back-to-back games, enabling him to set an all-time Bears record with eight defensive touchdowns. The 10-year veteran was named NFC defensive player of the week after both contests.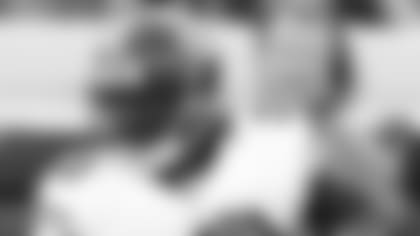 Charles Tillman's eight career defensive touchdowns are the most in Bears history.
"We've said it for quite a while here: He's a special player, and everybody's starting to see it right now," said defensive coordinator Rod Marinelli.
With Tillman's two interceptions in October, he tied Donnell Woolford for the most career picks by a Bears cornerback with 32, third most overall in franchise history behind safeties Gary Fencik (38) and Richie Petitbon (37).
"[Tillman] gets better every single year," said middle linebacker Brian Urlacher. "He's perfect for our defense. He's a big corner for cover-two and he's a good 'man' corner. He plays good in cover-three, he's over the top and he can tackle. Our corners have to tackle, and he can do that."
Tillman is also extremely proficient at stripping the ball from opponents; his 32 forced fumbles are the most by an NFL defensive back since he entered the league in 2003.
Asked if he's ever coached a player who was as adept at stripping the ball, Marinelli said: "No, never ever. I don't know if there's ever been anybody in the league like that, that good at it. I mean he does it every day, and they're holding the ball tight. It's awesome what he can do."
Tillman joins Brian Dawkins as the only NFL players since 1991 to have at least 30 interceptions and 30 forced fumbles.
"He is such a talented player," said linebacker Lance Briggs. "He has done some things in the NFL that no one has ever done before and people will try to mimic years after."
The Bears have won two straight and three of the last four NFC defensive player of the month awards. Cornerback Tim Jennings was honored in September, while defensive end Julius Peppers won the award last November.