Bears cornerback Charles Tillman has been named the Bears nominee for the 2012 Walter Payton NFL "Man of the Year" award. Tillman was also the Bears selection in 2011 and was voted one of three finalists by the NFL's blue-ribbon panel. This prestigious NFL award is the only League award that recognizes a player's off-the-field community service, support and activities as well as his playing excellence. It has been in existence since 1970 and honors NFL players who demonstrate outstanding balance in their lives between civic and professional responsibilities. In 1999, the league renamed the NFL "Man of the Year" award after Walter Payton as a tribute to his greatness both on and off the field.
All 32 nominees, one from each NFL team, will receive a $1,000 contribution toward a charity of his choice, and the overall winner will receive $25,000 to donate to his selected charity. The 2012 Walter Payton NFL "Man of the Year" winner will be announced during the "NFL Honors" awards ceremony the night before Super Bowl XLVII in New Orleans.
Since being drafted by the Bears in 2003, Tillman has been voted to two Pro Bowls and continues to show incredible passion for football and giving to those in need. Since the inception of the Charles Tillman Cornerstone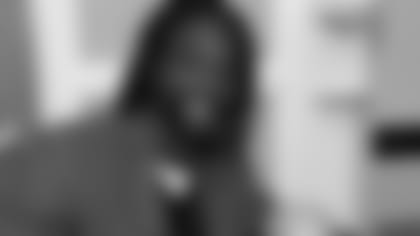 Foundation in 2005, his efforts have positively impacted over one million Chicago area children and raised well over $1 million. The Foundation began by providing children with educational opportunities and resources to excel in the classroom.
In 2008, Tillman's three-month old daughter was diagnosed with dilated cardiomyopathy. She received a life-saving heart transplant and is now a healthy and active little girl. Consequently, the Cornerstone Foundation changed its mission to improve the lives of critically and chronically ill children throughout Chicagoland by providing support and life changing experiences. The Cornerstone Foundation's interactive programs include "Charles' Locker," "Field of Dreams," "Holiday Celebration," "Mother's Champagne Brunch" and "The Tiana Fund."
"Charles' Locker" provides children and families with access to notebook computers, DVD players, digital cameras and MP3 players while undergoing recovery and treatment. There are currently five lockers in Chicago area hospitals that benefit over 290,000 patients on an annual basis.
"Field of Dreams" provides magical memories to chronically and critically ill children and their families by fulfilling sports-related wishes and vacation dreams.
"Holiday Celebration" takes place each December when Tillman and a few of Santa's elves visit local hospitals to pass out gifts, visit with families and partake in activities to help spread holiday cheer throughout the hospital.
"Mother's Champagne Brunch" annually honors mothers of chronically and critically ill children for the sacrifices made in caring for their child.
"The Tiana Fund" provides assistance to economically at-risk persons or families in need. The support is intended to strengthen their ability to care for themselves, enhance their stability and security, and improve their quality of life or their ability to contribute to the community. In 2012, the Tiana Fund assisted over 50 families with their bills to help bridge the gap during a difficult time.
Aside from the large impact of the Cornerstone Foundation, Tillman and his wife, Jackie, go above and beyond and contribute their time, talents and resources to a variety of organizations across the country that support the military, education, organ donation, and underprivileged children and families.