Chris Watts has been an avid Bears fan ever since watching them rout the Patriots in Super Bowl XX. But living in England, he never dreamed that he'd ever get to see his beloved team play a game in person.
That's where Dan Sciortino came in. Sciortino met Watts in a Bears fans chatroom and the two became friends. Last November, Sciortino set up a GoFundMe page to help pay for Watts to travel to Chicago to see a game. Fellow fans donated $585 and Sciortino helped raise an additional $600 to fund the trip.
Bears fan Lynn Hayden also helped the effort by writing a letter to the Bears.
Watts arrived in Chicago Oct. 12 and attended back-to-back home games against the Vikings and Raiders. At last Sunday's contest versus Las Vegas, Watts joined other fans tailgating in the Waldron Parking Lot and holding the "Bear Down" flag on the field before the game.
"As soon as I saw the field for the first time, I started getting quite emotional," Watts said. "We were just walking around, and I was tearing up. I started thinking about my dad, who just passed away, and looking at the [field]. I never thought this would happen. I never thought I'd actually be at Soldier Field."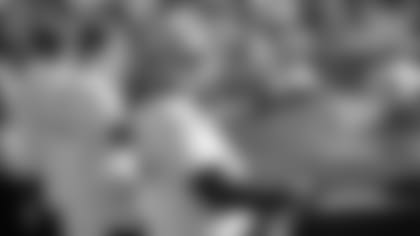 Watts began following the '85 Bears not only because of their dominance but due to their larger-than-life characters such as Mike Ditka, Walter Payton, Jim McMahon and William Perry.
The Bears came to England in 1986 to play an American Bowl preseason game against the Dallas Cowboys, and Watts happily watched the contest on television. Watts continued to follow the Bears via a weekly highlight show on British TV and even joined a local football team called the Leeds Cougars, playing running back because of his admiration for Payton.
Watts described his trip to Soldier Field as "a dream come true" and will be eternally grateful to Sciortino for helping his fantasy become reality.
"I knew it would be impossible for him to ever come here," Sciortino said. "That's why I just on a whim started the GoFundMe. Bears fans contributed. I put in a lot myself. I wanted to make sure that he could come here and have a good time."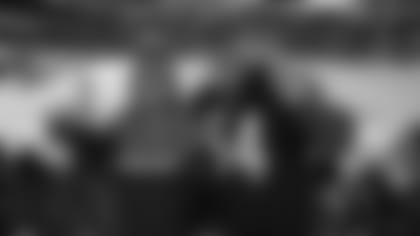 Watts appreciates all those who donated to make his unforgettable trip possible.
"Without the fans, without people [contributing] money, I wouldn't be here," Watts said. "I'm so appreciative to everyone who put in a dollar or 10 bucks. I've gotten to meet so many good people. Everyone's so friendly and welcoming."
Jim Foster was among the Bears fans who donated to the GoFundMe page.
"It was a community of people working together to let this guy come to Soldier Field to see a Bears game," Foster said. "Everybody helped make that happen."