The Chicago Bears and Bears Care recognized Veterans Day on Tuesday, November 11 by participating in several events that supported organizations such as Hines VA Center and The Road Home, which offer services and support to veterans of the U.S. Military and their families.
To start off the day, Chairman George H. McCaskey visited Edward Hines, Jr. VA Hospital in Hines, IL where he spent time talking with patients, many of whom are staying at the hospital on a long-term basis. McCaskey and other Bears staff members also distributed unique Bears camouflage Salute to Service hats to all of the veterans that the group met throughout the morning.
Later in the afternoon, tackle Michael Ola visited the Road Home Program: The Center for Veterans and Their Families at Rush in Chicago. He spoke with veterans and their families, and also helped Bears Care, the charitable arm of the Chicago Bears, present a $300,000 check to the Road Home Program. This grant reflects a three-year commitment to fund outreach and direct clinical care services.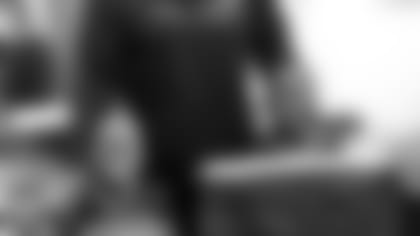 Michael Ola
Additionally, Miller Lite, the Bears, Bears Care and Jewel-Osco partnered with the Road Home Program: to distribute Thanksgiving meals to 400 military families in Chicago. Bears alumni players Anthony Adams, Desmond Clark, Rashied Davis and Jason McKie helped distribute turkeys and visited with veterans and their families. The Road Home worked with organizations in the community, including the USO of Illinois and the Department of Veterans Affairs, to identify military families who could benefit from this initiative. More than 60 volunteers from MillerCoors, the Bears and Jewel-Osco assisted in distributing groceries to veterans.
The Road Home Program opened its doors March 10, 2014 to help fill the gaps in care for the "invisible wounds of war." An energetic team of competent clinicians and support staff work to care for service members who deployed and have returned to civilian life in the Chicagoland area with combat-related conditions such as post-traumatic stress disorder, traumatic brain injury, military sexual trauma, and family challenges. RHP offers these services, regardless of the ability to pay, the veteran or their family members. For additional information please visit http://roadhomeprogram.org/.