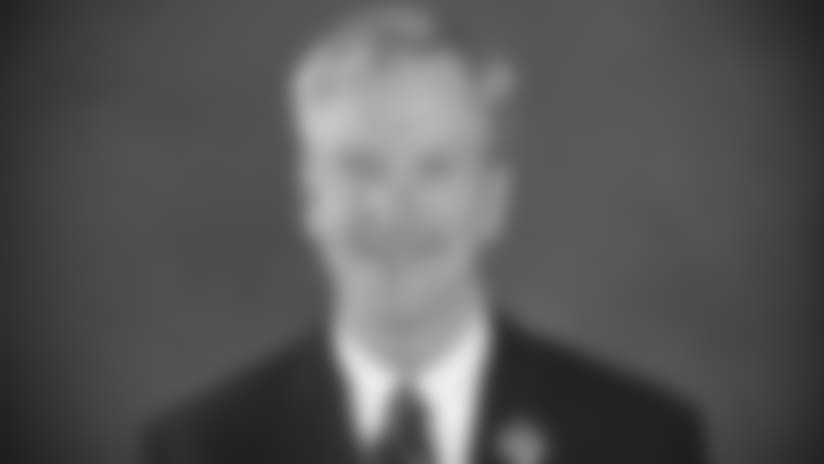 George H. McCaskey
Chairman
George Halas McCaskey became the fourth Chairman in Chicago Bears team history on May 5, 2011, following in the footsteps of grandfather, George Halas, father, Edward W. McCaskey and brother, Michael.
Ted Phillips
President and CEO
Ted Phillips was named President and Chief Executive Officer on February 10, 1999. He is the fourth person to serve as president in the organization's storied 98-year history following Michael McCaskey, George "Mugs" Halas, Jr., and George S. Halas. Since taking on the top leadership role, Phillips has insisted on attention to detail and smooth execution at every level of the Bears operation. He has solidified the long-term stability of the club, while staying keenly focused on bringing a 10th championship to the NFL's premier and founding franchise. 
Phillips has revitalized both the business and football operations by hiring high character, intelligent and driven individuals who share common goals and philosophies on how to build a consistent winner.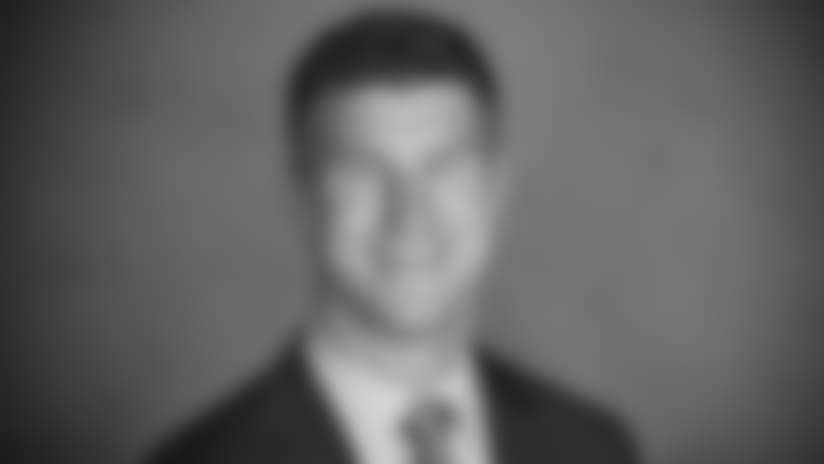 Ryan Pace
General Manager
Ryan Pace is in his fourth season as general manager of the Chicago Bears. He is the sixth general manager in franchise history after being hired on January 8, 2015. The Bears announced a three-year contract extension for Pace on January 1, 2018, keeping him with the club through 2021.
Following the 2017 season, Pace decided to take the team in a different direction and sought to find the right head coach to lead the Bears into the future. On January 8, 2018, Pace announced Matt Nagy as the Bears 16th head coach in franchise history.
Virginia McCaskey

Secretary

Brian J. McCaskey

Member

Ed McCaskey Jr.

Member

Michael McCaskey

Member

Patrick McCaskey

Member

Andrew McKenna

Member

Pat Ryan

Member
Scott Hagel

SVP, Marketing and Communications

Karen Murphy

SVP, Business Strategy and Chief Financial Officer

Cliff Stein

SVP and General Counsel

Lee Twarling

SVP, Sales and Customer Relations

Brian J. McCaskey

Vice President

Patrick McCaskey

Vice President

Rich McCaskey

Administration

Brit Bending

Executive Assistant

Gwen Federman

Paralegal

Beth Hodgin

Executive Assistant to the GM

Katie Nagle

Executive Assistant

Autumn Swindell

Executive Assistant

Jennifer Wilgosiewicz

Executive Assistant
Player Personnel
Josh Lucas

Director of Player Personnel

Champ Kelly

Assistant Director of Player Personnel

James Cosh

Scouting Assistant

Drew Raucina

Scouting Assistant
College Scouts
Mark Sadowski

Director of College Scouting

Chris Prescott

National Scout

Francis Saint-Paul

National Scout

Jeff Shiver

Executive Scout

Breck Ackley

Area Scout

Scott Hamel

Area Scout

Brendan Rehor

Combine Scout

Sam Summerville

Area Scout

John Syty

Area Scout

David Williams

Area Scout
Pro Scouts
Jeff King

Pro Scout

Brad Obee

Pro Scout

Chris White

Pro Scout
Football Operations Staff
LaMar Campbell

Director of Player Engagement

Kyle Childress

Coaching Assistant

Brad Goldsberry

Football Analytics/Research Coordinator

Bobby Macedo

Scouting Coordinator

Shane Toub

Offensive Assistant

Robyn Wilkey

Executive Assistant to the Head Coach
Football Administration
Joey Laine

Director of Football Administration
Sport Science
Jennifer Gibson

Sport Science Coordinator and Dietitian
Athletic Training
Andre Tucker

Head Athletic Trainer

Tim Ridner

Assistant Athletic Trainer

Will Rogers

Assistant Athletic Trainer

Jeremy Smith

Assistant Athletic Trainer

Tristen Asken

Physical Therapist
Equipment
Tony Medlin

Head Equipment Manager

Carl Piekarski

Assistant Equipment Manager

Drew Strom

Assistant Equipment Manager

Thomas Woody

Assistant Equipment Manager

John Young

Equipment/Administrative Assistant
Video
Dave Hendrickson

Director of Video Services

Dan Tuohy

Director of Video Technology

Dean Pope

Assistant Video Director

Jack Dowling

Video Assistant
Finance
Jake Jones

Vice President of Finance and Accounting

Patrick Barron

Accounts Payable Accountant

Whitney DeBuck

Accounting Manager

Louise Maki

Payroll Administrator

Jason McDonald

Manager of Financial Reporting

James McCaskey

Staff Accountant
Human Resources
Liz Geist

Director of Human Resources

Sue Dinardi

Human Resources Coordinator

Kristin Rogers

Recruiting and Training Facilitator
Information Technology
Justin Stahl

Vice President of Information Technology

Mike Santarelli

Director of Football Systems

Daniel Corona

Senior Systems Engineer

Bryan Greenaway

Senior Applications Engineer

Brent Johnson

Network Manager

Josh Naylor

Manager of IT Operations

Allen Silva

Systems Engineer
Business Research and Analytics
Corey Ruff

Director of Business Analytics

Karthik Sukumar

Data Scientist

Diny Hurwitz

Business Analyst
Business Development
Dan Yuska

Operations and Historical Affairs
Paul Neurauter

Vice President of Operations

John Bostrom

Senior Advisor of Operations and Safety
Building Operations
Geoff Bunzol

Director of Team Building and Operations

Sergio Jacobo

Manager of Building Operations

Brandon Yezek

Manager of Team & Business Operations

Gil Lopez

Building Operations Coordinator

Clyde Emrich

Administration

Liz Wallace

Receptionist

Halee Altenburg

Office Coordinator
Groundskeeping
Ken Mrock

Head Groundskeeper

John Berta

Assistant Head Groundskeeper

Paul Hitselberger

Groundskeeper Assistant

Joe Krajniak

Groundskeeper Assistant

Isaac Farley

Assistant Groundskeeper
Stadium Operations
Bryan Pett

Director of Stadium Operations

Bob Laskowski

Manager of Stadium Operations

Steven Goodwin

Stadium Operations Coordinator
John Tarpey

Director of Security

Gary Govekar

Security

Pete Spizzirri

Security

Tony McInerney

Security

Rodney Karlstrand

Security
Marketing and Communications
Greg Miller

Vice President of Content and Innovation
Content and Production
Dan Barile

Director of Content and Production

Jordan Tredup

Coordinating Producer

Chris Yankton

Coordinating Producer

Kevin Foy

Cinematographer and Engineer

Jared Harburn

Content Producer

Katie Teuber

Content Producer

Lauren Screeden

Reporter
Digital Media
Matt Koch

Director of Digital Media

Austin Huette

Web Designer

Kyle Thele

Website Coordinator

Larry Mayer

Senior Web Writer/Editor

Simon Kaufman

Writer
Social Media
Jen Tulicki

Director of Social Media

Cameron Good

Social Media Producer
Radio Broadcast
Jeff Joniak

Play-by-Play

Tom Thayer

Analyst
Fan and Brand Development
Fernando Arriola

Vice President of Fan and Brand Development
Marketing
Elaine Delos Reyes

Director of Marketing

Laura Condella

Manager of Marketing

Malcolm Neely

Marketing Coordinator

Joann Kowalski

Manager of Promotions

Kayla Pulito

Database Marketing Coordinator
Brand Creative
John Conroy

Director of Brand Creative

Matt Dunlap

Manager of Brand Creative

Kelley Jacobsen

Graphic Designer

Mat Stewart

Graphic Designer

Jacob Funk

Photographer

Ghada Yousef

Graphic Designer
Events and Entertainment
Tanesha Wade

Director of Events and Entertainment

Elizabeth Peters

Manager of Events and Hospitality

Drew Izban

Events Coordinator

Katlin Zickel

Manager of Entertainment

Denni Dahlfors

Events Coordinator

Staley Da Bear

Mascot

Scott Adams

Mascot Coordinator

Bobby Hack

Talent & Entertainment Coordinator

Rommel Paraiso

Manager of Game Presentation & Production

Michael Vasquez

Graphic Designer/Producer
Communications and Community Relations
Brandon Faber

Vice President of Communications
Communications
Adam Widman

Director of Media Relations

Jared Ellerson

Media Relations Coordinator

Aaron Clark

Media Relations Assistant

Meghan Bower

Public Relations Specialist
Bears Care
Marge Hamm

Director of Bears Care

Madeline Felipez

Bears Care Coordinator
Community Relations
Matt Simeone

Director of Community and Alumni Relations

Kate Rackow

Manager of Community Outreach & Alumni Relations

Gustavo Silva

Manager of Youth Football & Community Programs

Jessica Noonan

Community Outreach & Alumni Relations Specialist

Jacki Stuckert

Youth Football & Community Programs Coordinator
Sales and Customer Relations
Ticket Sales and Service
Brendan Pierce

Director of Ticket Sales and Service

Amy Loch

Manager of Premium Seat Sales & Service

Allison Brauer

Premium Seat Sales and Service Coordinator

Dillon Knight

Premium Seat Sales and Service Coordinator

Michelle Burke-McCaskey

Manager of Customer Service

Alissa Caulfield

Ticket Services Coordinator

Krista Fortman

Ticket Services Coordinator

Kyra Strutzel

Ticket Services Coordinator
Ticket Operations
Brian Forth

Director of Ticket Operations

Zack Bero

Manager of Ticket Operations

Jessica Glomstad

Ticket Operations Coordinator

John Hilbrich

Ticket Operations Coordinator
Corporate Partnerships and Suite Sales/Service
Doug Carnahan

Vice President of Corporate Partnerships
Corporate Partnership
Dave McClamroch

Director of Corporate Partnerships

Matt Black

Corporate Partnerships Manager

Dave Eck

Corporate Partnerships Manager

Matt Juedes

Corporate Partnerships Manager

Megan Malone

Corporate Partnerships Manager

Christine Christopoulos

Corporate Partnerships Coordinator

Greta Gustafson

Corporate Partnerships Coordinator
Partnership Activation
Melissa McDermott

Director of Partnership Activation

Maggie Geraldi

Manager of Partnership Activation

Kevin Anderson

Partnership Activation Specialist

Rachel Chessky

Partnership Activation Specialist

Mallory Glazier

Partnership Activation Specialist

Katherine Loomis

Partnership Activation Specialist

Ana Lisa Bassewitz

Partnership Activation Specialist
Suite Sales and Service
Adam Kellner

Director of Suite Sales and Service

Allison Knecht

Manager of Suite Service

Justin Gentile

Suite Sales Manager

Rebecca Reid

Suite Sales Manager

Adrienne Fuerst

Suite Services Coordinator