Front Office | Chicago Bears Official Website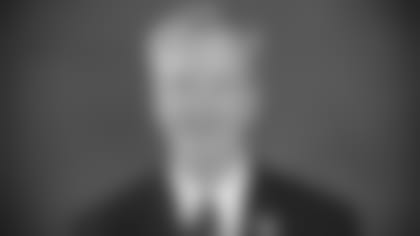 George H. McCaskey
Chairman
George Halas McCaskey became the fourth Chairman in Chicago Bears team history on May 5, 2011, following in the footsteps of grandfather, George Halas, father, Edward W. McCaskey and brother, Michael.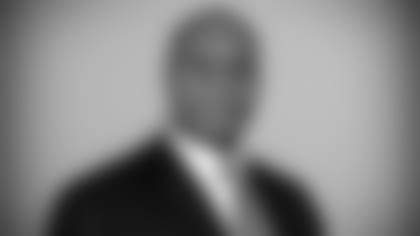 Kevin Warren
President and CEO
The Bears named Kevin Warren President & Chief Executive Officer on Jan. 12, 2023. In his current role, he oversees the club's football operations, all business operations and is leading the team's new stadium efforts.
Warren is the first Black President & CEO in club history and the first President & CEO hired from outside the organization. He succeeds Ted Phillips, who served in the same capacity since February 10, 1999. Warren will be only the fifth Bears president in club history following George S. Halas, George "Mugs" Halas, Jr., Michael McCaskey and Phillips.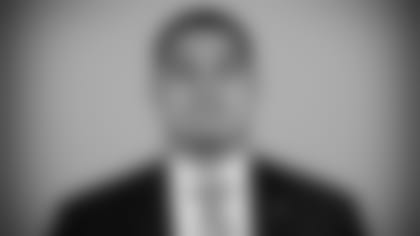 Ryan Poles
General Manager
Ryan Poles was named the seventh general manager in franchise history on January 25, 2022.
Poles, 36, completed his 13th season with the Kansas City Chiefs in 2021, and his first as the club's Executive Director of Player Personnel. Prior to 2021, Poles served for three seasons as the club's Assistant Director of Player Personnel (2018-20), a season as the Director of College Scouting (2017), four seasons as the College Scouting Coordinator (2013-16) and three seasons as the College Scouting Administrator (2010-12). Poles originally joined the Chiefs in 2009 as the team's Player Personnel Assistant.
Virginia McCaskey

Secretary

Brian J. McCaskey

Member

Ed McCaskey Jr.

Member

Patrick McCaskey

Member

Pat Ryan

Member
Scott Hagel

SVP, Marketing and Communications

Karen Murphy

SVP, Business Strategy and Chief Financial Officer

Cliff Stein

SVP and General Counsel

Lee Twarling

SVP, Sales and Customer Relations

Tanesha Wade

SVP, Diversity, Equity and Inclusion

Brian J. McCaskey

Vice President

Patrick McCaskey

Vice President

Brit Bending

Executive Assistant

Colleen Collins Josellis

Executive Assistant to the GM

Mai Davis

Executive Assistant

Katie Nagle

Executive Assistant

Autumn Swindell

Executive Assistant

Jennifer Wilgosiewicz

Executive Assistant
Player Personnel
Ian Cunningham

Assistant General Manager

Jeff King

Co-Director of Player Personnel

Trey Koziol

Co-Director of Player Personnel

Ashton Washington

Player Personnel Coordinator

David Dudeck

Scouting Assistant

Keith Earle Jr.

Scouting Assistant

Jake Ponikvar

Scouting Assistant
College Scouts
Breck Ackley

Assistant Director of College Scouting

Francis Saint Paul

Sr. National Scout

Sam Summerville

Sr. National Scout

Jeff Shiver

Executive Scout

Tom Bradway

Northeast Area Scout

Ryan Cavanaugh

Midwest Area Scout

Reese Hicks

West Coast Area Scout

Drew Raucina

Midlands Area Scout

Brendan Rehor

Southeast Area Scout

John Syty

Southwest Area Scout

Ryan Weese

Combine Scout
Pro Scouts
Chris White

Assistant Director of Pro Scouting

Charles Love

Pro Scout
Player Engagement
Erika Marmolejo

Director of Player Engagement
Football Administration
Matt Feinstein

Director of Football Administration

Krithi Chandrakasan

Director of Football Analytics

James Cosh

Manager of Football Administration/Pro Scout

Ryan Hubley

Football Research Analyst

Luke Rogers

Football Data Engineer
Football Technology
Mike Santarelli

Executive Director of Football Technology

Darby Dunnagan

Director of Video Operations

Dan Tuohy

Director of Video Technology

Richard Hildebrand

Football Systems Engineer

Kofi Amponsah

Football Support Analyst

Michael Carens

Video Assistant

Jack Dowling

Video Assistant
High Performance
Brent Salazar

Clyde Emrich Director of High Performance

Blair Hitchcock

Director of Sports Nutrition

AJ Lamb

Sports Scientist
Athletic Training
Andre Tucker

Head Athletic Trainer

Tristen Asken

Director of Rehabilitation Services

Carla Suber

Director of Wellness

Mike Wiley Jr.

Director of Mental Skills and Performance

Sye Nobles

Assistant Athletic Trainer

Tim Ridner

Assistant Athletic Trainer

Jeremy Smith

Assistant Athletic Trainer/Physical Therapist

Mariellen Mardis

Assistant Athletic Trainer
Equipment
Tony Medlin

Director of Equipment

Tyler Glende

Assistant Director of Equipment

Gary Faulcon

Assistant Equipment Manager

Darryl Magee

Assistant Equipment Manager

Thomas Woody

Assistant Equipment Manager

Cameron Reed

Equipment/Administrative Assistant
Finance
Jake Jones

Vice President of Finance and Accounting

Whitney DeBuck

Director of Financial Operations

Kristell Castro

Manager of Accounting

James McCaskey

Manager of Financial Reporting

Jamie Casselberry

Accounts Payable Specialist

Elycia Delgado

Staff Accountant

Louise Maki

Payroll Administrator

Nabil Patel

Staff Accountant

Jenilee Stroud

Payroll Administrator - Staff
Human Resources
Liz Geist

Vice President of Human Resources

Kristin Rogers

Manager of Employee Experience

Becca Meek

HR Operations Coordinator

Ana Rodriguez

Talent Acquisition Coordinator
Diversity, Equity, and Inclusion
Mallorie Sanders

Manager of Diversity, Equity and Inclusion
Legal
Gwen Federman

Paralegal

Elaena Harris

Associate Counsel
Information Technology
Justin Stahl

Vice President of Information Technology

Josh Naylor

Director of IT Operations

Bryan Greenaway

Senior Applications Engineer

Brent Johnson

IT Security Architect

Allen Silva

IT Network and Operations Analyst

Terrance Brown

IT Support and Operations Analyst

Kendall Taylor

IT Support and Operations Analyst
Business Strategy and Analytics
Corey Ruff

Vice President of Business Strategy and Analytics

Melissa McDermott

Business Strategist

Karthik Sukumar

Manager of Advanced Analytics

Joey Bloom

Data and CRM Engineer

Matt Leitzke

Business Insights Analyst

Justin Nath

Business Analyst, Marketing
Business Development
Dan Yuska

Operations and Historical Affairs
Paul Neurauter

Vice President of Operations

John Bostrom

Senior Advisor of Operations and Safety
Building Operations
Geoff Bunzol

Director of Building Operations

Lenny Smid

Manager of Building Operations

Zack Bero

Manager of Building Services

Halee Altenburg

Office Coordinator

Mike Mangoni

Building Engineer

Stacie Nelson

Procurement Specialist

Robert Orawiec

Shipping and Receiving Coordinator

Eric Rebman

Building Engineer​

Liz Wallace

Receptionist
Groundskeeping
Ken Mrock

Head Groundskeeper

Benjamin Baumer

Assistant Groundskeeper

Isaac Farley

Assistant Groundskeeper

Paul Hitselberger

Assistant Groundskeeper

Adam Holtz

Assistant Groundskeeper
Stadium and Event Operations
Bryan Pett

Director of Stadium and Event Operations

Bob Laskowski

Manager of Stadium Operations

Steven Goodwin

Stadium Operations Coordinator

Elizabeth Peters

Manager of Events and Hospitality

Meghan Clancy

Events Coordinator

Alex Murillo

Events Coordinator

Lorena Soria

Events Coordinator
Team Logistics
Kyle Kelly

Director of Operations - Logistics

Jay Nickell

Team Logistics Coordinator

Beth Hodgin

Operations Assistant - Logistics
John Tarpey

Vice President of Security

Pete Spizzirri

Director of Security

Rodney Karlstrand

Security

Tony McInerney

Security

Anthony Flowers

Security
Marketing and Communications
Lorne Chan

Vice President of Content and Innovation
Content and Production
Dan Barile

Director of Content and Production

Kevin Foy

Cinematographer and Engineer

Jordan Tredup

Manager of Content and Production

Katie Fox

Coordinating Producer

Chris Yankton

Coordinating Producer

Will Bridgforth

Content Producer

Bri Harvey

Content Producer

Veronica Malesinski

Content Producer

Jacob Funk

Photographer
Digital Media
Pooja Van Dyke

Director of Digital Media

Molly Brown

Digital Product Coordinator

Austin Huette

Web Designer

Larry Mayer

Senior Web Writer/Editor

Kevin Meyers

Digital Copy Editor
Social Media
Nicole Zimmer

Director of Social Media

Timothy Daye

Manager of Social Media Content Creation

Megan Greseth

Manager of Social Media Brand Integration

Marlon Bennett

Social Media Design Coordinator

Monterey Pepper

Social Media Content Coordinator

Chidera Udeh

Social Media Coordinator

Pablo Morales

International Social Media Content Creator
Radio Broadcast
Jeff Joniak

Play-by-Play

Tom Thayer

Analyst
Fan and Brand Development
Fernando Arriola

Vice President of Fan and Brand Development
Marketing
Laura Condella

Director of Brand Marketing Insights and Strategy

Howard Little

Manager of Brand and Influencer Marketing

Elaine Delos Reyes

Project Management Lead

Joann Kowalski

Project Management

Kelsey Meisenzahl

Marketing Coordinator

Natallia Jerzyk

Digital Marketing Specialist
Brand Creative
John Conroy

Director of Brand Creative

Rommel Paraiso

Manager of Motion Graphics Design and Production

Ghada Yousef

Manager of Brand Creative

Mat Stewart

Lead Graphic Designer

Michael Vasquez

Lead Motion Graphics Animator

Kelley Jacobsen

Graphic Designer

Jake Sadowski

Motion Graphics Animator
Events and Game Presentation
Katlin Strange

Director of Events and Game Presentation

Bobby Hack

Manager of Talent and Game Presentation

Keisha Lee

Events Coordinator

Staley Da Bear

Mascot

Scott Adams

Mascot Coordinator
Brandon Faber

Vice President of Communications
Bears Care
Marge Hamm

Director of Bears Care
Community and Alumni Relations
Matt Simeone

Director of Community and Alumni Relations

Kate Rackow

Manager of Community Outreach and Alumni Relations

Gustavo Silva

Manager of Youth and High School Football

Emily Rooney

Community Engagement Strategist

Jessica Noonan

Community Outreach and Alumni Relations Specialist

Leonard Smith

Youth & High School Football Coordinator

Sharon Lehner

Administration
Corporate Communications
Micaeh Johnson

Director of Corporate Communications

Miguel Lemus

Corporate Communications Assistant
Football Communications
Aaron Clark

Director of Football Communications

Ali Sayers

Football Communications Assistant
Sales and Customer Relations
Ticket Sales and Service
Brendan Pierce

Director of Premium Seat Sales and Customer Service

Amy Loch

Manager of Premium Seat Sales and Service

Allison Brauer

Premium Seat Sales and Service Coordinator

Dillon Knight

Premium Seat Sales and Service Coordinator

Michelle Burke-McCaskey

Manager of Customer Service

Alissa Caulfield

Customer Service Coordinator

Kyra Cosh

Customer Service Coordinator

David Cummings

Customer Service Coordinator

Krista Fortman

Customer Service Coordinator

Kareema Hill

Customer Service Coordinator

Olando Watt

Customer Service Coordinator

Christine Collins

Ticket Sales and Service Assistant
Ticket Operations
Brian Forth

Director of Ticket Operations

John Hilbrich

Manager of Ticket Operations

Marquis White

Ticket Operations Coordinator
Corporate Partnerships and Suite Sales/Service
Doug Carnahan

Vice President of Corporate Partnerships
Corporate Partnership
Dave McClamroch

Director of Corporate Partnerships

Megan Malone

Manager of Corporate Partnerships

Laron Davis

Corporate Partnerships Manager

Dave Eck

Corporate Partnerships Manager

Brittney Thomas

Corporate Partnerships Manager

Gracie Glickman

Corporate Partnerships Coordinator

Chris Simms

Corporate Partnerships Account Executive

Carter Byrd

Corporate Sponsorship Diversity Fellow
Partnership Activation
Maggie Geraldi

Director of Partnership Activation

Rachel Chessky

Manager of Partnership Activation and Solutions

Mallory Glazier

Manager of Partnership Activation and Development

Ana Lisa Bassewitz

Partnership Activation Specialist

Taylor Brzezinski

Partnership Activation Specialist

Dom Hillesheim

Partnership Activation Specialist

Josh Walls

Partnership Activation Specialist

Danica Lopez

Partnership Activation Assistant

Angela Veverka

Partnership Activation Assistant
Suite Sales and Service
Nathan DiLorenzo

Director of Suite Sales and Service

Allison Knecht

Manager of Suite Service

Justo Arellano

Suite Sales Manager

Rachel Frank

Suite Sales Manager

Logan Oppegard

Suite Sales Manager

Rebecca Reid

Suite Sales Manager

Crimson Duckett

Suite Service Coordinator

Ana Scarlati

Suite Service Coordinator
2023 Associate Class
Issac Albarran

Ticket Sales and Service Associate

Georges Azouri

Stadium and Event Operations Associate

Jarvis Carter

Football Communications Associate

MaryKate Drews

Photography Associate

Claire Durkin

Brand Creative Associate

Nicole Edison

Events and Game Presentation Associate

Isabella Gorisek

Content and Production Associate

Gabby Hajduk

Digital Media Associate

Henry Light

Building Operations Associate

Miles Massay

Team Operations Associate

Mia Riese

Community Relations Associate

Charlie Rock

Football Communications Associate

Tim Shaw

Marketing Associate

Katelyne Rubin

Social Media Associate

Andrea Wright

Football Research Associate