PHILADELPHIA – After Sunday's 31-3 drubbing by the Eagles in Philadelphia, Bears players vowed to learn from their most lopsided loss of the season.
"You've got to keep your focus small," linebacker Sam Acho said after the Bears fell to 3-8 with their fourth straight loss. "You can't focus on too big of a picture. Each individual guy has got to get better at whatever they can get better at.
"These are really important life lessons. Football's important, but life is more important. You learn a lot of lessons in situations like this about yourself and about life. How do you handle adversity? What do you do when the odds are stacked up against you? How do you react when things aren't going well.? These are really important life lessons."
Even though they remain mired in last place, Bears players will keep fighting.
"To be honest I just don't want to be disrespected as a player, as a man," said guard Kyle Long. "You're not going to line up across from me and take my lunch money every play. I won't allow it to happen and I know we've got guys in the locker room who feel the same way. We just have to do it as a team."
"All we can do now is just learn from this," added linebacker Christian Jones. "It gets old saying it. But I believe in this team—everybody. I feel we've got enough to win and on Sundays we've just got to put it all together. Hopefully it comes next week."
Ground to a halt: The Bears got manhandled on the ground by the NFL's No. 1-ranked run defense, mustering just six yards on 14 carries. They had minus-five yards until quarterback Mitchell Trubisky scrambled for 11 yards late in the game.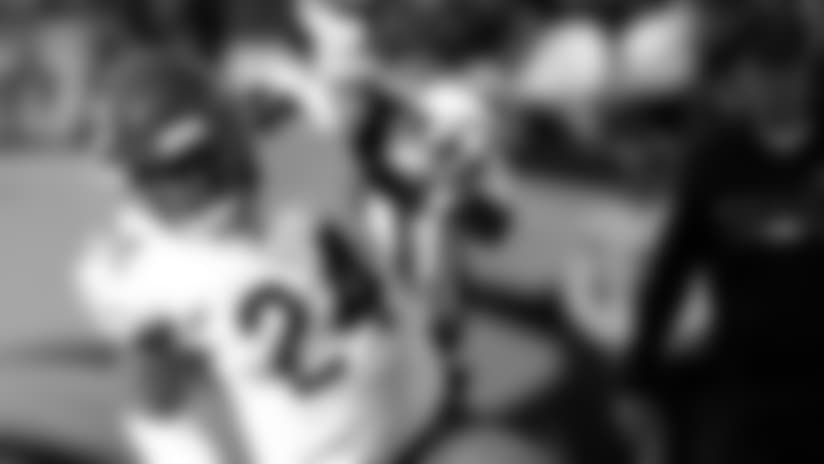 Bears running back Jordan Howard gets pushed out of bounds against the Eagles.


Running backs Jordan Howard (seven carries for six yards), Benny Cunningham (one attempt for minus-one yard) and Tarik Cohen (two carries for minus-11 yards) combined for 10 carries for minus-six yards, including a 12-yard loss by Cohen on a reverse.
The lack of production on the ground apparently was on Long's mind when the veteran offensive lineman was asked by a reporter about the Eagles' touchdown celebrations.
"I'm not here to watch celebrations," Long said. "I'm here to block the defensive front and get yards. We got negative six yards today. I could give two [expletives] about their celebrations. If they want to go on 'Dancing with the Stars' that's great for them. We're trying to win football games. We didn't do that today. I'm very glad that they're well-choreographed in their dance routines. We've got to find a way to win football games."
Self-inflicted wounds: The Bears once again hurt themselves with penalties, drawing nine flags for 56 yards. They started drives at their own 5 and 8 after penalties on a punt return and kickoff return and twice gave the Eagles new life with defensive holding penalties on third-down incompletions, sustaining two drives that both resulted in touchdowns.
Welcome back: Tight end Dion Sims returned after missing two games with an undisclosed illness.
"It felt great," Sims said. "My body felt good. I felt like I just picked up where I left off."
Sims caught one pass for a three-yard loss, but his biggest play came when he stripped the ball from safety Malcolm Jenkins after an interception. The Bears offense regained possession without leaving the field as Tre McBride recovered the fumble.
"Coach always talks about playing until the whistle blows," Sims said. "I was tracking the ball and just staying on the move. That's the first thing I thought when he caught the ball and he cut back. It was just a natural instinct to put my hand in there and try to rip it out."
Left guard Josh Sitton exited Sunday's game in the first half with a concussion and was replaced by Bradley Sowell. Safety Adrian Amos Jr. suffered a hamstring injury on the final play of the third quarter and was replaced by Deon Bush.