The Bears partnered with Aramark Sports + Entertainment to host a tasting event at Soldier Field Tuesday ahead of Sunday's season opener against the Packers.
The event, which returned for the first time since 2019, introduced the stadium's new food and beverage items and announced updates to the fan experience and best practices for fans to enjoy the 2023 season at the historic stadium.
Bears Senior Vice President of Sales and Customer Relations Lee Twarling kicked off the event Tuesday afternoon by sharing his remarks.
"Today is a great event for a lot of different reasons," Twarling told ChicagoBears.com, "not only about highlighting and showcasing what Aramark is doing on the food and beverage side, but also being able to talk about the overall gameday experiences for fans. There's so much that fans have to be prepared for and ready to do for gameday. We want to be able to share the message and send reminders to fans of what they can do to be ready for a gameday."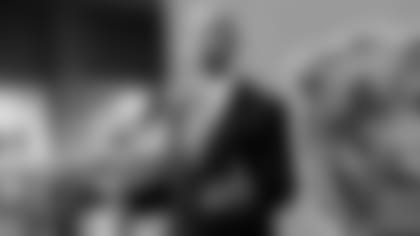 Twarling narrowed down those gameday changes and reminders to four main points, which starts with downloading the Chicago Bears Official App. The app is "the ultimate resource" for fans to see gameday and stadium information and consume Bears content, including the revamped Gameday Guide that features, easy access to your tickets, parking information, a comprehensive map of Soldier Field and much more. The Gameday Guide is also available on ChicagoBears.com.
For the fifth season in a row, the Bears will be accepting mobile tickets only. Adding tickets to a phone's mobile wallet serves as the easiest process for fans to scan into Soldier Field.
The stadium's clear bag policy remains intact for the 2023 season. Any clear bag, whether it's a backpack, fanny pack or crossbody, with a maximum size of 12"x6"x12", is allowed.
The final point of emphasis is ensuring fans allow themselves enough time to enter the stadium and enjoy the gameday experiences. These include the traditional tailgating lots, the Miller Lite Ultimate Tailgate & Vizzy Fan Zone and new interactions with the Walter Payton and George Halas statues outside the stadium.
For the Bears season opener Sunday, fans should be aware of increased traffic heading to Soldier Field with the Taste of Chicago at Grant Park this weekend.
When fans are ready to enter Soldier Field, they can now go through the Ticketmaster Plaza, formerly Gate 0. Twarling recommends that fans make their way to the gates 45 minutes before kickoff to enjoy player introductions, the flyover and national anthem.
Regional Executive Chef for Aramark O'Brien Tingling and Chicago District Manager for Aramark Corby Stephens also attended the event. Following the menu introductions and sampling, Chef Tingling stayed for a Q&A regarding the tasting.
The featured food items at Tuesday's tasting included the following:
Meatball Grinder, Jumbo meatballs topped with marinara sauce and shaved parmesan (Stands 110 & 306, United Club )
CitySteak Cheesesteak, Specialty cheesesteak sandwich topped with grilled onions, peppers and provolone cheese or Tostitos cheese (Portable 103)
Cover 3 , Vienna hot dog, Polish sausage, Italian sausage (Portable 114 and Dr Pepper Patio)
FrankenWurst, Half-pound Vienna all beef hot dog, sliced tomatoes, yellow mustard, chopped onions, green relish, pickle spear, and sport peppers (Stand 108)
SackAttack Burger, Grilled ground beef patties, sliced American cheese, warm cheese sauce, coleslaw, and fried onion tanglers on a brioche bun (North Marche on United Club Level)
"We've appreciated the collaboration and the hard work that's gone in from Aramark to put today's event on," Twarling said, "while also recognizing all of the conversations that go behind helping our fans having the best food and beverage experience they can on a gameday. Today has been a great way for [Aramark] to showcase what they've been doing and set up the stage for what's coming on Sunday."