Almost 80 former players returned to their old stomping grounds last weekend for the Bears' annual Alumni Homecoming.
The alums attended a luncheon and dinner party Saturday, which included a Q&A with assistant general manager Ian Cunningham and radio broadcaster Jeff Joniak, as well as Sunday's 19-10 season-opening win over the 49ers at Soldier Field.
"I loved it, it was great," said Raymont Harris, a Bears running back from 1994-97. "The Bears have done so much in reaching out and keeping guys connected and showing their love and showing that we matter, that we were important to the tradition and history of the franchise.
"I think it really shows by a lot of the actions of them sending us so many things, communicating with us, bringing us back in a first-class kind of way, providing tickets and being on the field and at the big dinner. It was great to be a part of it, especially getting a chance to see some of my old friends and teammates."
The Alumni Homecoming featured players from the Bears' 1963 and 1985 NFL championship teams as well as the 2006 NFC title squad.
Bob Wetoska represented the 1963 team, while players from the famed 1985 Super Bowl XX champion Bears on hand were Tom Andrews, Kurt Becker, Richard Dent, Tyrone Keys, Emery Moorehead, Jim Morrissey, Ken Taylor, Cliff Thrift and Otis Wilson.
Members of the 2006 NFC champions who participated were Anthony Adams, Bernard Berrian, Alex Brown, Mike Brown, Israel Idonije, Patrick Mannelly, Brandon McGowan, Kyle Orton, Charles Tillman and Dante Wesley.
Other notable alums who attended were Jerry Azumah, Wendell Davis, Bobby Douglass, Paul Edinger, Curtis Enis, Matt Forte, Roland Harper, Erik Kramer, Zach Miller, Jim Osborne, Tom Waddle and Donnell Woolford.
"It was amazing," said Mike Brown, a Bears safety from 2000-08, "the win, the rain, seeing old-timers and teammates. Bringing in a new era. The players believe in what the coaches are coaching. It just feels right."
"It was great," added Alex Brown, a Bears defensive end from 2002-09. "It's always fun to come back and see some of the guys you played with and some of the guys you played with on Tecmo Bowl when you were a kid."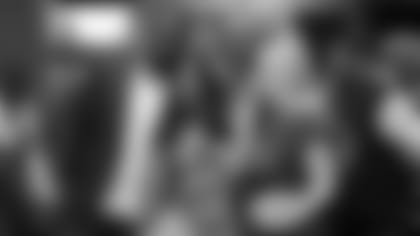 The weekend gave Alex Brown, who lives in Atlanta, the chance to catch up in person with former teammates who remain close friends such as Tillman and Adams.
"It's always good to see those guys," Brown said. "It's always good to see guys that know what you went through. It was awesome."
Harris especially enjoyed reconnecting with a former teammate in Kramer, a Bears quarterback from 1994-98.
"I had not seen 'EK' in so long," Harris said. "It truly made me smile because that was my quarterback for a number of years."
Alumni Homecoming was coordinated by Bears director of community and alumni relations Matt Simeone as well as Jessica Noonan and Kate Rackow, members of the team's alumni relations department. 
"It was great to have nearly 80 alumni from over 50 years of Chicago Bears football attend our Alumni Homecoming," Simeone said. "It was amazing to have several generations of football history in one room.
"It's important to the Bears organization to give our alumni opportunities to come together and celebrate with each other. We want everyone to remember that these are the players who helped build the foundation for our current players."