The Bears, Bears Care and their players have been involved in a slew of Thanksgiving-related causes. Here's a rundown:
• The Road Home Program Turkey Giveaway: The Bears, Jewel-Osco, and Molson Coors held a turkey giveaway for military families from The Road Home Program: The Center for Veterans and Their Families at Jewel-Osco on Nov. 18. Bears alumni Rashied Davis, Ahmad Merritt, Steve Edwards and Jason McKie were on-site for photo opportunities with service members and their families, along with Staley Da Bear.
• Midwest Veterans Closet Turkey Giveaway: Alongside Cigna, the Bears supported a turkey giveaway on Nov. 19 for veterans hosted by Midwest Veterans Closet in North Chicago. Midwest Veterans Closet provides food, goods, and dignity for the military, many of whom are experiencing or are at-risk of homelessness. Staley Da Bear, Chicago Bears Drumline brought to you by The Pride Stores, Monster Squad and Chicago Bears partner organizations were on-site. Jimmy Graham made a donation to cover the costs of all 250 of the Thanksgiving boxes that were distributed and included notes that he personally signed. Chicago Bears Small Business All-Pro Peppo's Subs, which is veteran-owned, provided lunch at the event.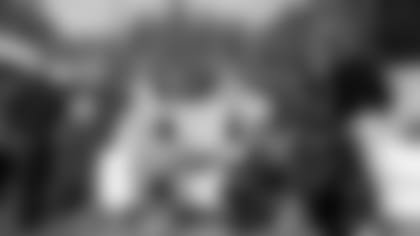 • The Firehouse Community Arts Center Turkey Giveaway: On Nov. 23-24, Bears Care and Flik helped provide Thanksgiving meals to 450 families (approx. 2,000 individuals) in the North Lawndale community in partnership with The Firehouse Community Arts Center. FCAC, a long-time Bears Care partner, prepared the food provided and packaged meals for pickup Thanksgiving week, as well as offering delivery to the elderly and families lacking transportation. Bears players and staff donated to help provide the meals; Jimmy Graham made a donation to Bears Care to cover the costs of 375 turkeys.
• The Dovetail Project Turkey Giveaway: On Nov. 20, The Dovetail Project held a turkey and tree giveaway for 300 people on the South Side, which the Bears supported. Staley Da Bear was also on-site to entertain the crowd. The Dovetail Project provides Black and Hispanic fathers ages 17 to 24 with the skills and support they need to be better fathers for their children and better men in their communities.
Player- and alumni-led Thanksgiving support:
• Deon Bush: For the third consecutive year, Deon provided Thanksgiving meals to children and families served by SOS Children's Villages Illinois, this time at their Roosevelt Square location. SOS Children's Villages Illinois unites brothers and sisters in foster care and provides a safe space to heal for at-risk youth.
• Tarik Cohen: In partnership with the Black Village Foundation, Lil Durk's Neighborhood Heroes and a local grocer, he helped give away food, including 1,000 turkeys, on Nov. 16.
• Matt Forte, Anthony "Spice" Adams & Charles Tillman: The "What's Your Forte Foundation" partnered with Progressive Church to provide 200+ meals to families in need on the South and West Sides on Nov. 20 and will continue to do so for the next eight weeks. Anthony "Spice" Adams and Charles Tillman also provided support. The Bears provided a donation to support as well.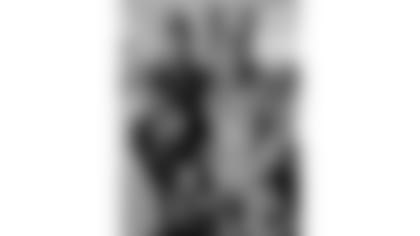 • Jimmy Graham: In addition to supporting team initiatives, Jimmy, a continued supporter of Ignite since joining the Bears, provided full Thanksgiving meals for all of the youth in their community and residential programs this week. Ignite stands with youth who are experiencing homelessness on their journey to a home and a future with promise.
•Akiem Hicks: He held his 4th annual Akiem Hicks' Thanksgiving Meal Service and Distribution and recently visited the True Value Boys & Girls Club in Chicago to distribute meals to 100+ at-risk youth.
•Eddie Jackson: He has committed a $5,000 donation to support 200 families through the Greater Chicago Food Depository.
•Roquan Smith: He partnered with local businesses in his hometown to bring food from the farm to the table to nearly 900 families; each family received a box of produce and a turkey. A group of Air Force pilots from Robins Air Force Base helped to serve.
Across the multiple events supported by the Bears, Bears Care and players/alumni, more than 6,000 individuals received food.