They have yet to play in an NFL game, but the eight prospects the Bears selected in last month's draft teamed up to record an impressive victory this week.
Attending the NFL Rookie Symposium in Aurora, Ohio, the Bears rookies won the Ultimate Rookie Challenge, a competition among NFC teams featuring questions about NFL history as well as information delivered by various guest speakers.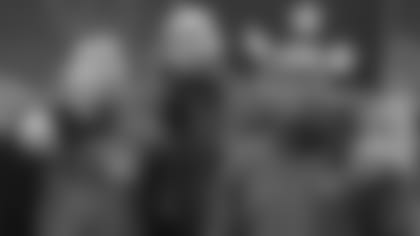 Kyle Fuller, Ego Ferguson and Terry Cousin pose for a photo at the NFL Rookie Symposium in Ohio.
The group consisted of draft picks Kyle Fuller, Ego Ferguson, Will Sutton, Ka'Deem Carey, Brock Vereen, David Fales, Pat O'Donnell and Charles Leno Jr.

"It's good to bring home the trophy," said Terry Cousin, a former Bears cornerback who now serves as the team's director of player engagement. "Those guys have done a great job over the course of May and June with all of our meetings and all the things that have been thrown at them."

Issues covered via presentations, workshops and videos at the symposium included player health and safety, decision making, mental health, substance abuse, domestic violence prevention, non-discrimination and maintaining positive relationships.

Those topics had already been covered by Cousin during "Bears University," a comprehensive offseason program for the team's rookies at Halas Hall.

"Our rookies are very alert and attentive," Cousin said. "They're taking notes during Bears University. They've gotten copies of power points from all the presenters there. So they've been going through that process of creating really good habits. And they do that with their playbooks and taking notes in class as far as football, so they were very prepared for the symposium."

Individually, Ferguson recorded the most correct answers among NFC rookies and Fales was third.

"Ego said he was going to win," Cousin said. "He was very vocal about what he was going to do. He told me he was going to carry the team and that's what he did."

So what does the victory at the symposium say about the Bears draft picks?

"It says we're a smart group of guys, guys who are coachable and listen to what's said," Sutton said. "We take notes, we're attentive in meetings and we're focused, and that's going to help all the rookies when it comes to playing on the field."