The leadership skills that new Bears tight end Trey Burton displays on a daily basis at Halas Hall stem from his days as a quarterback at Venice High School in Florida.
"I take a ton of pride in it," Burton said. "I'm not much of a vocal guy. I'm more of a one-on-one intimate type of communicator. I was a quarterback in high school. I had a great quarterbacks coach who taught me how to be a leader and how all the eyes are on you. Ever since then, I kind of ran with it."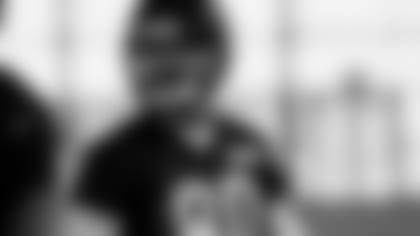 Tight end Trey Burton helped the Eagles win the Super Bowl last season.


Burton ran with it all the way from Philadelphia to Chicago, signing a four-year contract with the Bears March 14 after helping the Eagles win their first Super Bowl. The 6-3, 235-pounder spent his first four NFL seasons in Philadelphia, catching 63 passes for 629 yards and six touchdowns in 61 games after joining the team in 2014 as an undrafted free agent.
Predominantly a third-stringer with the Eagles behind Zach Ertz and Brent Celek, Burton is expected to see much more playing time as the Bears' No. 1 tight end. It's a new role that he knows he must prepare for both physically and mentally.
"In Philly it was kind of tough for me because I never knew week-in and week-out how much I was going to play," Burton said. "I was always preparing like I was going to play a lot. But then the games where I wouldn't play a lot, I'd be a little disappointed. Now I don't think that will be the case. I know how to prepare to be 'the guy.' It's not my first time jumping into that role."
Burton will play the "U" tight end in coach Matt Nagy's offense.
"It's a hybrid position," Burton said. "You can line up anywhere. You're a wide receiver and you're a tight end mixed in one. You've got to be able to block. You've got to be able to run routes with the best of them because sometimes when you're in 12 personnel (one running back and two tight ends) and you're the 'U' tight end, you have the nickel and the nickel is supposed to be the best cover guy or one of the best cover guys on the opposing team.
"You've got to be able to beat those guys up and you've got to be smart because you've got to line up outside, you've got to line up inside, you've got to line up in the backfield. I love it, man, because you never know what's going to happen each play."
Burton's name as a possible free agent target was first mentioned when Nagy and general manager Ryan Pace were flying together from Kansas City to Chicago after Nagy was hired.
Burton appealed to the Bears because he possesses the traits to excel at a key position in Nagy's offense and has experience in the scheme, having played for coach Doug Peterson with the Eagles. Pederson worked with Nagy on coach Andy Reid's staff with the Chiefs.
"The very first thing [Nagy] said was the value of the 'U' tight end or the 'F' tight end, which is kind of that move tight end that's flexed out a lot," Pace said in March. "So immediately my wheels started turning, 'OK, who is that in free agency, who is that potentially in the draft,' and we quickly identified Trey as a target.
"The more we dug into Trey, we just saw a lot of upside. He's very athletic. He's a mismatch on linebackers because of his route quickness, his speed and his football intelligence. Another positive factor is he knows this offense. Philadelphia runs the same offense that Matt runs. So [Burton] comes in right away and knows exactly what we're doing."
Burton has made a very positive first impression on Nagy.
"It's so easy to feel his leadership," said the Bears coach. "It's not one that's rah-rah, always-hear-him-talking type leader. He just leads by example. The guys see that and feel that because of the team he just came from. How he handled himself in Philadelphia, he brought that here.
"He's really smart. He understands this offense and what to do, so there's not a lot of mistakes. When guys see that you're a player that has experience in this offense and does things the right way, they really gravitate towards that style of leadership. It's been everything and more with what we thought with Trey."