A thick fog arrived on the afternoon of Friday, Dec. 10, 1965, leaving Chicago blanketed in its wake. The disgusting murk made vision a nightmare. Chicago's downtown skyscrapers were invisible from the city's streets, while hundreds of planes were grounded at O'Hare and Midway.
Weather of that type is rare during the winter, but the mix of a warm Southern breeze and chilly Midwestern temperatures caused the dense air to hang. The next day, visibility improved, but the gray sky stayed. Flights were cleared to come and go, including a cross-country airliner carrying the San Francisco 49ers into Chicago for Sunday's NFL Western Division matchup against the Bears. By Saturday night, the clouds finally broke, and the city was hit with several inches of overnight rain.
All of that set the stage for a showdown between the Bears and 49ers at 1:00 p.m. on Sunday at Wrigley Field.
A half-century later, one of the primary recollections of that day from those who were there is the stinkin' weather. And that's not just an expression; the weather did indeed stink. Everything that had taken place outside over the previous 48 hours turned the stadium into a mess, and Sunday's conditions didn't help matters. Despite the air being unseasonably warm, the sun never came out. The sky remained gray as it had the days prior. Rain came and went, while a gusting wind regularly howled off of Lake Michigan.
Then there was the mud. Grass doesn't normally fare well in Chicago Decembers, and that winter was no different. Five Bears home games followed a lengthy Chicago Cubs baseball season on the Wrigley turf, leaving the sod in ruin. The weather was "an absolute quagmire," according to Bears defensive end Ed O'Bradovich.
Yet on that off-putting field, the greatest single-game performance by a Bears player took place. If the weather was memorable, then what Gale Sayers did to the 49ers 50 years ago this week is downright unforgettable.
Part I
A star arrives
Thirteen months before kickoff, on the morning of Nov. 28, 1964, representatives from the 14 NFL teams met at the Summit Hotel in New York City for the league's annual draft. After a 5-9 season, the Bears held the fourth pick in round one; Chicago also had the third selection thanks to a trade with Pittsburgh. Choosing immediately before the Bears were the San Francisco 49ers, who in '64 had gone just 4-10. Both the Bears and the 49ers were in the market for help in the offensive backfield.
With the second pick, San Francisco took a fullback from the University of North Carolina by the name of Ken Willard. Chicago followed that up with their two choices: Illinois linebacker Dick Butkus at number three, and then the running back the team needed, University of Kansas product Gale Sayers.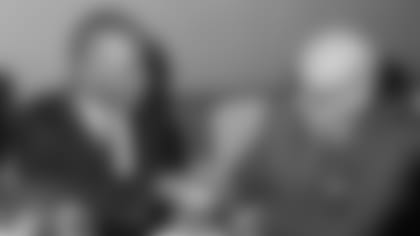 It was easy to see the young Chicago runner was destined for stardom.
"Gale had maybe the best change of direction I've ever seen," said Mike Ditka, a teammates of Sayers in 1965 and '66, Hall of Fame tight end and Super Bowl-winning coach. "He could plant, cut - the cutting ability was just incredible. He would start one way, and I don't know how many times I saw it. If the play was going away from me it didn't matter, you had to keep your block because he was probably coming back somewhere along the way. And that's what he did. He had a great ability to reverse his field, reverse direction. Hop, cut, turn. And he was a great receiver."
Sayers described his style much simpler: "I liked to run, period," he said. "I knew that if you give me the ball, I was going to make a touchdown."
Sayers' NFL debut came against the 49ers, at Kezar Stadium in San Francisco's Golden Gate Park. The 22-year-old rookie was held to 44 rushing yards on 12 attempts, along with three receptions for 26 yards. The 49ers dominated, 52-24, in a game that was even more lopsided than the score indicated.
But after his slow start, the Chicago rookie really turned it on. Sayers had 184 total yards and two touchdowns in Week 3 against Green Bay, four scores in Week 4 at Minnesota, and 113 rushing yards and two TDs in Week 11 against the Giants. As Sayers played better, so too did the Bears. After starting the season 0-3, the team won eight of its next nine games heading into the Week 13 rematch with the Niners.
"I'd say our whole offense was Gale Sayers, basically," Ditka recalled. "With Sayers and Butkus out there, we probably had every bit as good of a team or better team than we had in '63 when we won the championship."
Part II
The confident coach
Dick Voris arrived in Chicago on that rain-soaked Saturday equipped with a plan, creatively titled 'The Chicago Defense.' The no-nonsense defensive coordinator for the 49ers had seen plenty of football in his day and knew the best way to contain an explosive playmaker.
Voris had come to San Francisco from the Green Bay Packers, where he'd been the director of player personnel for Vince Lombardi. During his coaching career, Voris had come across several great players, and he was confident he'd prepare his own guys well enough to stop the hotshot rookie on the Bears.
Voris also felt the weather would play to his team's advantage. "I remember one of our coaches said he hoped it would rain a lot, because it would slow Sayers down," said 49ers linebacker Dave Wilcox. The common thinking in football is that wet turf helps slower teams. If Sayers was unable to cut, shift and change direction so easily, the San Francisco defense would have a better chance at tackling him.
Along with their plan to stop Sayers, the 49ers were also feeling confident heading into Wrigley Field. They had also won four straight games, mainly because of an offense that would end the 1965 season ranked first in the NFL in both yards and points. A win in Chicago would give the team a chance to play for its first playoff berth since 1957.
"We had our regular defense that we had worked on coming into the game," 49ers cornerback Jimmy Johnson said. "I think the fact that it was going to be a damp, wet track, that helped us."
The Niners had a strategy, and considerable talent - both Wilcox and Johnson were skilled, young players who eventually would be enshrined in the Pro Football Hall of Fame. However, what San Francisco didn't realize was that rain, wind and mud would have no effect against a player as talented as Sayers.
Part III
'Running hard like a locomotive'
Fairly early in the game, the 46,278 fans at Wrigley Field got a taste of what they were in for. Sayers took a screen pass from quarterback Rudy Bukich at the Chicago 20-yard line and was immediately swarmed by a group of 49ers. As all of the San Francisco defenders struggled to keep their balance in the mud, Sayers' nylon cleats stayed flat. He sprinted through the group en route to an 80-yard touchdown.
"I loved catching the ball," Sayers reflected upon watching the video of himself, 50 years later. "I had a lot of moves, I just put everything I could into a run."
The 49ers didn't know what to do. The weather was worse than any coach or player on the opposing sideline had expected, and the conditions were impacting 21 of the 22 players on the field. The only one who didn't seem to mind was wearing No. 40 in navy and white.
"Gale was a guy that could change direction so well," said 49ers right guard Howard Mudd. Mudd was on the opposing sideline from Sayers in '65, but would play alongside the running back in Chicago in 1969 and '70. "You'd think a guy who could change direction would slip down. Well, not really. Because the only time he was really going full speed was when he was accelerating through the hole. When he was wiggling in front of you and his legs were on the ground, you couldn't keep your footing. He really had an advantage in that regard because of the way he played."
Sayers performed another Houdini act in the second quarter. With his uniform already covered head-to-toe in dirt, Sayers took a handoff from Bukich at the San Francisco 21-yard line. He hurdled over one defender, swerved around two others and powered through one more for another breathtaking score. A few minutes later, he tacked on his third touchdown of the game, a 7-yard run.
"He was running hard like a locomotive," Johnson said, "but very light of foot like a ballet dancer."
The score at halftime: 27-13, Chicago. The 49ers had no answer for the rookie running back. And with 30 minutes still to play, the Bears - and Sayers - were far from done.
Part IV
One man does it all
Very few running backs in NFL history had Sayers' ability to do so much with so little. Give a player like that an inch, the old saying goes, and he'll take a yard. With his ability to make something out of nothing, Sayers may have been the very best ever at finding daylight when only darkness appeared.
One would think that would make Sayers a tricky player to block for. Opponents had no clue where the running back was going next because Sayers himself hadn't even decided. For those tasked with keeping him free, the plan was simple: stay on your man. Because Sayers moved around so much, Chicago offensive linemen and tight ends knew a play could be coming their way, even if the run or pass was called to the opposite side of the field.
"If you were able to get in front of him, either downfield or pulling on the 9-toss that he used to go around the end, he would set your block up for you," said Bears right tackle Bob Wetoska. "If you were running at a guy and he starts to go to the outside, 'backers could go to the outside and he'd take him out and cut it back to the inside. So that was his strength, really. He could set up his blockers and have plenty of room to run."
In the third quarter against the 49ers, Sayers had one of those runs where nobody on the field could believe what happened. At midfield, the back took a handoff and went around Wetoska on the right side of the Chicago offensive line. Immediately, two defenders surrounded him, and it looked as though he'd be tackled for a loss. Sayers stumbled, but instead of going down, he managed to regain balance and stay on his feet. With the 49ers struggling for traction on the torn up Wrigley Field turf, Sayers never lost his stride and sprinted to freedom, going untouched for the final 47 yards on another long score.
"I had great blocking, but also great vision," Sayers said. "I knew where the blockers were lined up. Once I got that open space, get out of my way."
He had more than just speed and elusiveness, though. Toward the end of the third quarter, Sayers showed his acrobatics, diving over a pile head-first before flipping into the end zone, his fifth touchdown of the game. The score put the Bears up 40-13, and suddenly, this disgusting day was looking great for the Chicago faithful.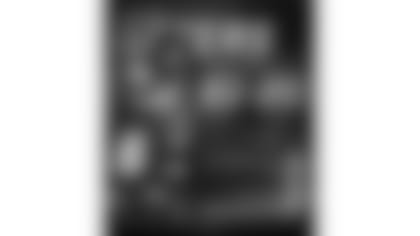 Part V
A run for the record
In 1929, Chicago Cardinals fullback Ernie Nevers scored six touchdowns in a game versus the Bears. Cleveland Browns running back Dub Jones also accomplished the feat, in 1951, also against the Bears. And on that dreary day in 1965, Gale Sayers added his name to the list of NFL players who scored six touchdowns in a game.
The record-tying score came on a punt return midway through the fourth quarter. Sayers caught the ball at the Chicago 15 and immediately took off to his right. He broke through one arm tackle near the sideline and dashed through a group of 49ers to get to midfield. Then the magician went back to his left, sprinting diagonally across the field. Another San Francisco player got a hand on him, but not with enough force to slow him down. With players from both teams slipping on the mud, Sayers strided into the end zone on the left sideline for his sixth touchdown of the game.
"I just knew that if you gave me the ball, nobody was going to catch me," Sayers said.
Chicago had the ball down near the San Francisco goal line again in the fourth quarter, but Bears coach George Halas opted to give the ball to backup Jon Arnett, who walked in untouched for a 2-yard score.
The chance for history eventually overcame Halas, who was there for the six-touchdown performances by both Nevers and Jones. He let Sayers return one more punt before the game was over. The rookie caught the ball, found a block and came around the corner. But Mudd - not to be confused with the mud - tripped him up.
"I don't know if he'd have scored another one or not, but all I know is this," Mudd said. "Gale was going around that corner, and I dove in the air. My left hand, the middle finger caught his thigh pad. The field was muddy and his foot slipped, he kicked his leg out and he fell down. So I made this miraculous tackle, and when I was on the ground I looked down the field and there was nobody there."
Sayers finished the game with nine rushes for 114 yards and four touchdowns, two catches for 89 yards and a score, and five punt returns for 134 yards and a touchdown. The Bears, who had lost to San Francisco by 28 three months earlier, won 61-20.
"It was really incredible, something to behold," Ditka said. "Probably the greatest single game, I think, in the history of the game."
Part VI
Still at the top
The legacy of Sayers' six-touchdown game has endured 50 years for several reasons. The NFL may be bigger, faster and stronger in 2015 than it was in 1965, but that hasn't helped anyone score six touchdowns in a single game since Sayers.
Modern NFL rosters are filled with guys who are there for a sole purpose; rarely does a single player run, catch and return punts the way Sayers did. In fact, since 1960, Sayers is one of only three NFL players to have a rushing, receiving and punt return TD in the same game; the most recent occurrence of that took place in 1976.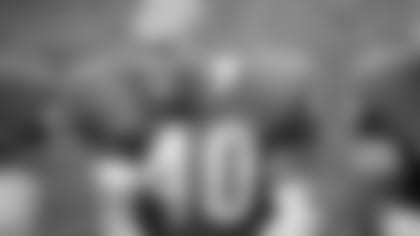 But Sayers' performance has also stood the test of time not only because of what he did, it was also how he did it. O'Bradovich recalled how usually he and his defensive teammates would sit on a bench when the Chicago offense had the ball, resting and preparing for their next series. When Sayers arrived, that all changed. The Bears defense acted like the fans in the stands, doing everything they could to catch a glimpse of the breathtaking back.
Mudd stated that the 49ers players were in shock at what they'd witnessed following the loss. Linebacker Matt Hazeltine mocked his defensive coordinator's strategy, saying of Vorris' 'Chicago Defense', "It's a good thing he put that defense in, (otherwise Sayers) might have scored seven."
Along with shock, the 49ers were also in awe. A month after the record-setting performance, Sayers was in Los Angeles Memorial Coliseum - where the rookie was getting ready for a pre-Pro Bowl practice - when Wilcox walked up and held out his hand.
"My name's Dave Wilcox," the 49ers linebacker said with a smile, "and I'd just like to see what you look like close up."
Sayers would go on to play five more seasons with the Bears before knee injuries forced him to retire in 1971. He was enshrined into the Pro Football Hall of Fame in 1977. He still holds the NFL record for the most touchdowns in a season by a rookie - 22 - along with being the last player to score six touchdowns in a single game.
"I'm very proud of that. I really am," Sayers said of what he did 50 years ago. "God gave me a gift to run with the football. And that's what I did."
Eli Kaberon is a web writer for ChicagoBears.com. He has previously written for Pro Football Weekly, Stats LLC and the Chicago Sun-Times. In 2014, Kaberon won the Chicago Headline Club's Peter Lisagor Award for Best Sports Story in a Daily Newspaper. You can follow Eli on Twitter @EKaberon.