Immediately after the Bears selected Brian Urlacher with the ninth overall pick in the 2000 NFL Draft, more than 98 percent of fans responding to an online poll approved of the choice.
After 13 illustrious seasons in Chicago, all 17 people who did not endorse the selection of the athletic New Mexico product probably would deny ever casting their vote.
The Bears entered the 2000 draft targeting Urlacher, running back Thomas Jones and receiver Plaxico Burress at No. 9. When Jones was selected by the Cardinals at No. 7 and the Steelers followed by picking Burress at No. 8, the Bears had an easy decision.
"Fate seemed to work in this direction," then-Bears head coach Dick Jauron said at the time. "To have this linebacker come to this franchise in this city, I think it was a great thing for us. And we're all looking forward to seeing him and watching him develop."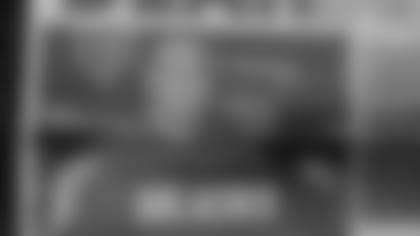 The Bears fell in love with Urlacher's freakish athletic ability. As a senior at New Mexico, he played safety, caught six touchdown passes as a red zone specialist and returned kicks. They envisioned him as a playmaker who added speed and toughness to a defense that ranked 29th in the NFL in 1999.
"If you go out and watch the kid practice, a kid of that size with that much speed and that much ability to change direction, you get pretty excited about him as soon as you see him," said then-Bears vice president of personnel Mark Hatley, who headed the draft.
"You turn on the lights and sideline to sideline he sure makes a lot of plays. And he'll make some big hits."
The first time then-defensive coordinator Greg Blache read a scouting report on Urlacher, he felt like someone was trying to convince him that the Loch Ness Monster existed. So Blache popped in a videotape of Urlacher and discovered that at least one freak of nature was more than just an urban legend.
"When they first told me about him I thought they were joking," Blache said at the time. "Sometimes scouts get a little carried away with what they see. But watching the guy on film, he's very impressive. As big a man as he is, he can really run. He's got exceptional speed for a linebacker."
What Blache saw on film was a 6-4, 258-pounder with speed, power and agility who was timed at 4.59 in the 40-yard dash at the NFL Scouting Combine and had a 34-inch vertical jump.
After playing safety his final two seasons in college, Urlacher lined up at linebacker in the Senior Bowl and was named the game's MVP. When he was drafted by the Bears, he was eager to join the franchise's storied tradition at the position.
"That's the best part of being a linebacker in Chicago," Urlacher said at the time. "All you ever hear about is [Mike] Singletary and [Dick] Butkus and how good they were. It's a dream come true. Hopefully I can carry on the tradition."
Urlacher accomplished that goal, and he'll join Singletary and Butkus in the Hall of Fame during the enshrinement ceremony Saturday night in Canton, Ohio.