The Bears spent an hour and 15 minutes of their two-hour practice outdoors in single-digit temperatures Thursday trying to replicate the frigid conditions they'll encounter Sunday.
The high temperature for their game against the Packers at Soldier Field is expected to be about five degrees, which would make the contest among the coldest in Bears history.
"It was probably as close to what we think the game conditions will be," said coach John Fox, "so it was kind of good to get the guys out there, get the proper footwear and clothing. But it was a little chilly.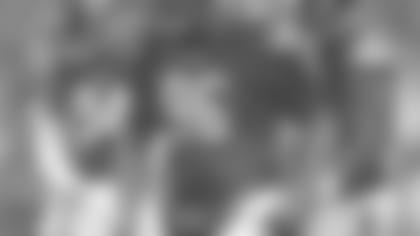 The high temperature for this Sunday's game at Soldier Field is expected to be about five degrees.


"We don't have all the same heating elements that we do during the game. Those are a little more sophisticated than the little blow heaters we use in practice. But all in all I think it was a good rehearsal. Guys adapted and focused pretty well."
While Fox understands the importance of preparing for the Arctic-like weather, he doesn't think that it's something that anyone can grow accustomed to.
"I've known a lot of people that grew up in very cold-weather places," Fox said. "I don't think they've gotten used to it. You just deal with it. That's pretty much been the approach you take in the NFL, in my experience. You don't want the shock value to be the day they arrive. Sometimes if it is, you can't control it. But I don't think you ever get used to it."
The coldest Bears game at Soldier Field since they relocated there in 1971 temperature-wise was on Dec. 22, 2008 when it was two degrees for a 20-17 overtime win over the Packers. The coldest home game in Bears history is believed to have occurred on Dec. 16, 1951 when it was minus-one at Wrigley Field for a 24-14 loss to the Chicago Cardinals.
With 15-to-25 mph winds predicted Sunday along Chicago's lakeshore, the wind chill factor at Soldier Field could drop to 20 degrees below zero.
"It's a mental game," said defensive end Akiem Hicks, who played his college ball at the University of Regina in Saskatchewan, Canada. "You've just got to push through. It's going to be cold. You're just going to have to suck it up and play through those conditions. You can't do anything about it. You want to play the game, so you've just got to take it."
Having grown up in California, Hicks conceded that he wasn't prepared for the frigid weather he'd endure north of the border. His final college game—which took place the night of Nov. 4, 2011 in Calgary—remains the coldest he's ever played in.
"I think the wind chill was 28 below," Hicks said. "I went out for warmups before the game and tried my best to do all the stretches that I could, but I couldn't get loose. During the first quarter I pulled my left hip flexor, just yanked it. But I finished the game.
"Being from California, I had no idea what it was going to be like to live in Saskatchewan. I had no ambitions of going to play in the cold. Going to Canada was really an eye-opening experience to what other people have to deal with when it gets cold outside."
Fox and his coaching staff will begin monitoring how his players are dealing with the conditions in pre-game warmups, particularly those who handle the ball.
"When you're standing there watching the quarterback warm up and the guys catching it can't catch it, it makes you adjust," Fox said. "If the wind is as flat as it was today, I don't see it bothering either team very much. I think it's just a race to the heaters when you come off the field."