ST. LOUIS – The Bears have struggled to stop the run all season, but it's never been a bigger problem than it was Sunday at the Edward Jones Dome in St. Louis.
Rams quarterback Kellen Clemens completed only 10 of 22 passes for 167 yards, but the Bears were gashed on the ground for a season-high 258 yards in a 42-21 loss to St. Louis.
[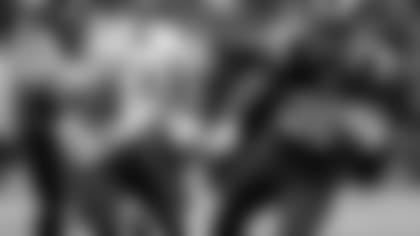 ](http://www.chicagobears.com/multimedia/photo-gallery/Rams-vs-Bears/c2024786-11e3-43c5-98a5-299fa0cff2a4)

The Bears defense surrendered a season-high 258 yards on the ground against the Rams.
**Click to view photos from the game.**
"We haven't done a good job of consistently stopping the run," coach Marc Trestman said following Sunday's defeat. "We've got to try to find a way to do a better job.""They're a good football team and we give them props," said linebacker Jon Bostic. "They were better than us today, plain and simple. We have to get back and keep getting better."
The Bears failed to stop three Rams rookie ballcarriers. Tavon Austin scored a 65-yard touchdown on his only rush, Zac Stacy ran for 87 yards and 1 TD in the first half before exiting with a concussion and Benny Cunningham gained 94 of his 109 yards in the second half.
"We have to execute better and have guys do their job better all at the same time," said defensive end Julius Peppers. "We have to get it fixed by practicing and by doing the little things.
"It's about everybody not being on the same page at the same time. If you have 10 guys doing it right but one guy not doing it right, then that's an explosive play. We have to make sure everybody is on the same page, doing everything right all the time."
After allowing an average of 102 yards in the first six games this season, the Bears run defense has yielded an average of 197 yards in the last five contests. Part of the problem is that the unit has been decimated by injuries, losing cornerback Charles Tillman, linebackers Lance Briggs and D.J. Williams, and defensive tackles Henry Melton, Nate Collins and Stephen Paea.
"I think the guys are in the right place, but we didn't get it done," Trestman said. "I'm not going to go into the technical aspects of it, but I do know this: We're putting in the time and the effort and we've just got to continue to work at it. I know we will and we certainly have got to do a better job next week."
After Sunday's loss, the Bears rank last in the NFL in run defense, allowing 145.2 yards per game. They permitted two runs of over 30 yards all of last year but matched that total in St. Louis, increasing their total to eight on the season.
Austin (65 yards) and Stacy (35) became the latest opponents to record their longest runs of the year against the Bears, joining the Packers' Eddie Lacy (56 yards), the Ravens' Ray Rice (47) and the Lions' Reggie Bush (39).
"We're never going to say we can't get the problem fixed because it is fixable," Peppers said. "Like I said, we're going to start by doing the little things right. We're going to simplify it more than it has been and we're going to work at it until it is fixed."