Ahead of the Bears' Salute to Service game Nov. 13 vs. the Lions, coach Matt Eberflus and over 15 players visited Naval Station Great Lakes Monday to meet with Marines, Sailors, staff members and their families. 
"We talked about this last Friday of coming out here to Great Lakes Naval Academy and I talked about it [Monday]," Eberflus said. "We got a group, got a bus of about 20 guys which was great. Really, it's just about honoring the service men and women that protect our freedoms. 
"We're coming up on Salute to Service this month and we thought it would be a nice way to kick that off and show our support to the service men and women that do protect our freedoms. So, this was fun. It's great to meet them and hopefully they enjoyed it. I sure know we enjoyed it."
The Bears signed autographs, took selfies, and spoke with nearly 100 people at the station. Eberflus and the players also got a look at a ship replica, the USS Whitehat, where the service members train as Boatswain's Mates for a month following boot camp. 
"It was just awesome to see how excited they were just to see our faces because they sacrifice so much to protect our freedom and protect our country," Fields said. "So, it's just great giving back to them and being able to have a positive impact on them."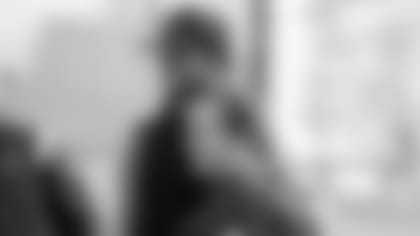 Whitehair got a behind-the-scenes look at the USS Whitehat, touring the replica ship Monday with Boatswain's Mate 1st Class Joshua Armentrout.
"I got to see the captain chair and where they drive the ship," Whitehair said, "Got to see the bunk house, they even have a little gym down there. He talked to me about certain alarms and horns they have to blow for certain things, obviously the big anchor. Got to see how they fuel the ship and how dangerous it is, so overall a very cool experience."
While Whitehair comes from a military family, he's never been able to see or explore anything close to the ship, so having the chance to learn how the Sailors and Marines prepare was special to him.
"It's really cool being able to see what they do," Whitehair said. "They're out here fighting for our freedom and everything so it's cool to give back, meet the people and kind of see what they do too."