In each of the last two weeks, the Bears have held eight-point leads near the end of the fourth quarter, with their defense on the field in the shadow of their own end zone on a critical fourth-down play. And in both games, the defense delivered, keeping their opponents from scoring and clinching a pair of primetime road wins.
Those performances are impressive regardless of who is on the field, but even more so given the injuries Chicago has suffered early in the year. By the end of Monday's 27-19 win against the New York Jets, the Bears were down five defensive starters from Week 1.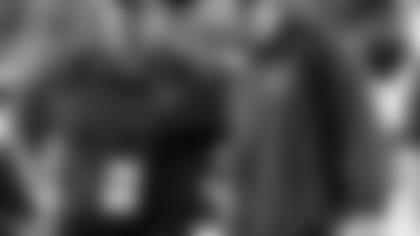 Marc Trestman and Joe DeCamillis
"There's a lot of different ways to win a game. Each and every week is its own little story, its own little chapter," coach Marc Trestman said Tuesday on WBBM-780's 'Chicago Bears Coaches Show.' "Two weeks in a row, fourth down in the red zone and we were able to come up with a win. It's an awesome way to go."
Injuries to safeties Chris Conte and Ryan Mundy during the game in New York forced reserves to take over deep in the secondary, while rookie Kyle Fuller made his first career start in the Jets game after Kyle Fuller was put on injured reserve earlier in the week. The shakeup forced some players to learn on the fly, but the defense still did not break.
Fuller was especially impressive. He forced a pair of fumbles – using Tillman's patented ball punch – and also jumped in front of a pass in the end zone, his third interception in two weeks. The strong play is exactly what the Bears were looking for from their first-round pick, and what his peers saw coming from a player who shined during training camp. "Kyle is like a sponge. He's eager to learn, eager to want to be great," cornerback Tim Jennings said Tuesday on his radio show, 'Jennings and Jarret,' on 87.7 The Game FM. "He just needed that confidence and that opportunity and he's getting it on big-time stages, and you have seen what he's been able to do with it."
The defense wasn't the only unit to deliver in the Bears win. Quarterback Jay Cutler led the offense, throwing two touchdowns and no interceptions in the victory. Facing a talented and complex Jets defense, Trestman said Cutler's performance despite constant pressure was a big key to the team's ability to jump out to an early lead and never give up.
"You think about it, it doesn't get any harder then it gets to play a Rex Ryan defense. And you have to go in knowing you are going to take some hits, that they are going to get to you," Trestman said. "To do it on the road, in the noise, on a silent count, it makes it even more difficult."
Special teams also came through for the Bears. With so many injuries to starters on defense, the coverage and protection units on kickoffs and punts had to be changed, but coordinator Joe DeCamillis said he was proud of his group, which was mostly made up of young players, many of them rookies, including a few who had been on the Bears for only a week or less.
Ahmad Dixon was one of those guys. Signed by the Bears on Sept. 8, he played in the season opener, but then was inactive in Week 2. He was back on the active roster versus the Jets and came up with some big plays, including a recovered fumble on a muffed punt that set up Chicago's second scoring drive of the game.
"He had a great game for us (on Monday)," DeCamillis said of Dixon on 'Chicago Bears Coaches Show.' "He not only (recovered a fumble), but he was very, very disruptive inside on kickoff coverage and made another play on punt coverage that was very much needed at the time."
Now the Bears –2-1 on the season following the back-to-back wins – move on to face their oldest rivals, the Green Bay Packers, back at home in Week 4. The test will be another tough one, with Packers quarterback Aaron Rodgers always proving to be a threat, despite Green Bay's offensive struggles early in the season.
Still, given what they have handled the last few weeks, the Bears are confident that no matter who is out there, they can do enough to earn another win.
"Aaron Rodgers has our undivided attention," Trestman said. "For him, past performance isn't indicative of what he can do the next time around. He's a champion and it's going to be a great challenge."