Min Halas, the wife of George Halas and mother of Virginia Halas McCaskey, was affectionately known by her family as "Keeper of the Scrapbooks."
Year-after-year and decade-after-decade, Min would cut articles and photographs out of newspapers, organize and label them and paste them into scrapbooks, chronicling the history of the Chicago Bears.
The scrapbooks that Min Halas created up until her death in 1966 were the inspiration for the Chicago Bears Centennial Scrapbook, a 320-page masterpiece authored by award-winning writers Dan Pompei and Don Pierson that documents the founding NFL franchise's first 100 years.
"This is a book that people will probably have on their bookshelves for many, many years," Pompei said. "It's something that reflects such a great period of time and so many great achievements and so many people. So much blood, sweat and tears went into those 100 years, it was really great to be able to look back at it and pick out some of the highlights and talk about them."
Virginia Halas McCaskey is featured prominently throughout the book, and with good reason. She was born three years after the NFL was founded in 1920 and has experienced over nine decades of Bears history.
Mrs. McCaskey spent 14 hours being interviewed by Pompei and Pierson for the Centennial Scrapbook. She wrote the foreword for the book and shares her thoughts and anecdotes throughout the keepsake.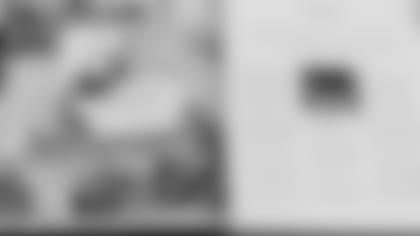 As a toddler, she accompanied her father and the team during the Red Grange barnstorming tour in 1925-26. In the book, she recalls Grange carrying her in front of him through train stations so fans would not recognize him and mob him for autographs.
In 1932, Mrs. McCaskey attended the NFL's first indoor game, watching the Bears win the league championship by blanking the Portsmouth Spartans 9-0 at the Chicago Stadium. In the book, she remembers the unpleasant smell that permeated the building, saying: "The circus had been there the week before, and it still smelled of animals."
The Centennial Scrapbook is not a chronological history of the Bears. It instead consists of five sections, with chapters on 1) Owners, management and coaches; 2) Seasons, games and championships; 3) Innovations and milestones; 4) Rivalries; and 5) Players.
"If you wanted to tell the line-by-line history of the Chicago Bears, you'd have to write a book the size of the old Encyclopedia Britannica," Pompei said.
"We didn't want to get bogged down in, 'This happened in 1941 in April, this happened in 1941 in May.' We kind of looked at it in a different way and said, 'What are the most important things and the most interesting things in the team's history, the most significant happenings and people?' We tried to highlight those and we tried to present them in a form that was kind of lively and unpredictable so that people didn't quite know what they were going to get when they turned the page."
The Scrapbook also includes Bears' all-time teams on offense, defense and special teams; and a ranking of the top 100 players in franchise history.
It's filled with rare photos and images of historic artifacts and memorabilia such as Bronko Nagurski's player contract, Sid Luckman's game-worn pants, a notepad that Halas designed plays on and the letter that defensive players wrote to Halas in 1982 urging him to retain coordinator Buddy Ryan.
"I had the most fun writing the rivalries because I can remember a lot of those games," Pierson said. "Some of the stuff that happened is hilarious. One time a fan ran onto the field to punch out George Halas and an unidentified man kicked the guy in the ass. It turns out it was [Halas' son] Mugs Halas."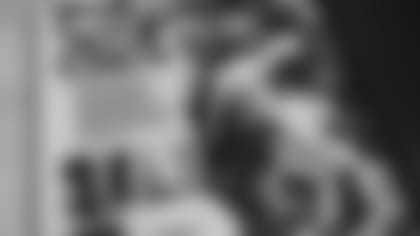 The Centennial Scrapbook was edited by Mark Vancil and designed by John Vieceli. An authentic Bears100 uniform patch is embedded in the cover of the book, and the book's dust jacket unfolds into a poster.
The top 100 players in Bears history will be counted down this week on ChicagoBears,com, with Nos. 76-100 Monday, Nos. 51-75 Tuesday, Nos. 26-50 Wednesday and Nos. 1-25 Thursday. The website will unveil the all-time team June 3-5, encouraging fan feedback that will be posted June 6.
"We combined a lot of objective criteria into this subjective list and surprisingly we didn't argue a lot over it, although we suspect it might start more arguments than end them," said Pierson.
Excerpts from the Centennial Scrapbook will be posted on ChicagoBears.com on a series of Tuesdays: May 28 and June 11, 18 and 25.
Pompei and Pierson will discuss the Centennial Scrapbook during a panel at the Bears100 Celebration Weekend June 7-9 at the Donald E. Stephens Convention Center in Rosemont. The Scrapbook can be purchased for $55 at the Bears100 Celebration or by visiting store.chicagobears.com.