Bears tight end Cole Kmet on Wednesday was announced as an ambassador for Special Olympics Illinois, a not-for-profit organization that offers year-round training and competition in 18 sports to a community of more than 55,000 traditional athletes, young athletes, unified partners, coaches, volunteers and more.
A shared passion for sports between Kmet and the Special Olympics Illinois athletes is what drove the Lake Barrington native toward the partnership.
"I know how important sports are to me and for everyone to have that opportunity to go out and compete is pretty cool and pretty special," Kmet told ChicagoBears.com. "Sports have always been a great escape for me and they've meant a lot to me, so it's cool that it means a lot to others as well."
As a global organization, Special Olympics focuses on using the transformative power and joy of sport to unleash the human spirit. Special Olympics Illinois' President & CEO Pete Beale-DelVecchio believes Kmet embodies that mission.
"Special Olympics Illinois is thrilled to welcome Cole Kmet as a new ambassador for the organization," Beale-DelVecchio said. "Cole has shown strong passion and commitment to our mission and has perfectly fit into our community. Through his partnership, we will continue to celebrate the extraordinary potential within all our athletes, expand our community, and spread the message of inclusion."
Kmet's desire to become a Special Olympics Illinois ambassador stems from his childhood when he spent time at Gigi's Playhouse, a Down Syndrome Achievement Center. He had friends involved in the efforts at Gigi's Playhouse and said the organization "was really prevalent in our local community in Barrington."
"For me, this was a good opportunity that was presented and with my connection to it when I was younger, I thought it was an easy path for me — in something that I was passionate about — to pursue," Kmet added.
Last month, Kmet and the Bears invited 10 Special Olympics Illinois athletes to Halas Hall for a meet-and-greet with the tight end.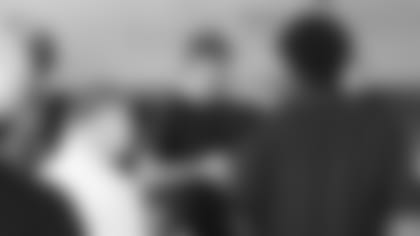 Kmet also took pictures and signed autographs for the athletes while his agency, Athletes First, provided everyone with t-shirts. A few of the athletes brought drawings they made for Kmet, which he now keeps with him at his locker in Halas Hall.
"It was cool to have everyone over by the practice fields to see our setup here and just to interact with everybody really organically," Kmet said following the event. "We talked a lot about NBA stuff, some NFL stuff. It was good to get around everybody and bring them over to Halas.
"The athletes all have deep passions for the sports that they play. Some of them play a ton, some play a couple, but it's cool to be around people who have an extreme passion for sport. They definitely love it a lot. Them having questions for me as a professional athlete, it's cool to be around that and have those types of discussions."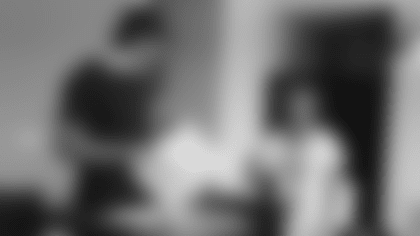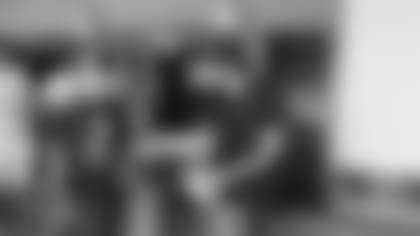 Beale-DelVecchio also expressed his gratitude to Kmet, his agency and the Bears for hosting the event. 
"We thank the Chicago Bears and Athletes First for welcoming District 214 Transition to Halas Hall, highlighting the important mission of Special Olympics Illinois as part of the Athletes First Tailgate Tour," Beale-DelVecchio said. "This invitation to provide a once-in-a-lifetime experience for Special Olympics Illinois athletes is a testament to the character of the Bears organization as well as the unique spirit and transformative power of sports."
While the athletes were excited to hang out with Kmet, the four-year pro was equally as happy to spend time with them. Kmet said he's been feeling the "need and the want to help" in the community he grew up in as he's recognized his influence as a Chicago Bear. 
"You get caught up here with wins and losses and that's kind of what the business we're in is about," Kmet said. "But you get to see the greater impact that you have off the field. It's cool to see the impact that you have outside winning or losing a football game. So it's really cool to interact with those athletes and it's awesome that we share the same passion."