Tight end Cole Kmet on Wednesday was presented with the 2022 Jeff Dickerson Good Guy Award by the Chicago chapter of the Pro Football Writers of America.
The honor is given annually to a Bears player who best helps the media do its job. It was named after Dickerson, a popular ESPN reporter, who passed away a year ago Wednesday due to cancer.
Kmet thanked reporters for selecting him as the recipient of the award.
"You guys have been fantastic this year, in the locker room and being super respectful to all the players, and we feel that," Kmet said.
"You guys have got a big responsibility for this game and all you guys have got your takes—whether the guys in the locker room agree with it or not—but it's good for our game. You guys are promoters of this game for us and it's the reason why the NFL is what it is today. So, I appreciate all your good work and I appreciate all the respect that you guys have given me."
An avid Chicago sports fan while growing up in Barrington, Kmet was familiar with Dickerson, who began covering the Bears in 2001. Kmet described Dickerson—who was known affectionately as "J.D."—as "a really special guy" and "a great reporter."
"To get an award in his name is really special," Kmet said.
Dickerson's parents, George and Sandy, attended the award presentation.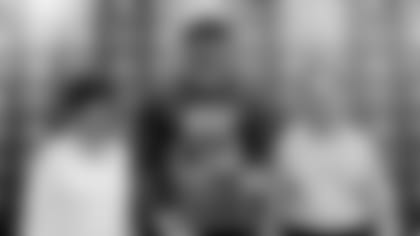 This is the 10th year the Good Guy Award has been presented. Robert Quinn and Tashaun Gipson Sr. shared it last year. Previous recipients were Josh McCown (2013), Ryan Mundy (2014), Matt Slauson (2015), Tracy Porter (2016), Zach Miller (2017), Prince Amukamara (2018), Allen Robinson II (2019) and Mitchell Trubisky (2020).
Kmet acknowledged that it isn't always easy interacting with the media during a losing season like the Bears are having this year. 
"It's difficult and there's times when you're very frustrated as a player," Kmet said. "But at the end of the day, it's our responsibility to be there and be present for you guys and be engaged. You guys have got a lot on your plate. You guys have got things that you've got to write about, talk about, and those are your responsibilities. And it's our responsibility to provide that info and answer your questions the right way. 
"I think it's important. It helps me get my message across, regardless of what you guys are asking, and it works both ways. I always feel like I'm respectful of it and I think you guys feed off of that and show that respect my way as well."