For many NFL quarterbacks, Rosevelt Colvin's number 59 was in their face way too often for comfort. Colvin, who was selected by the Bears in the fourth round of the 1999 draft out of Purdue, was the team's first player to post double-digit sacks in consecutive seasons since Richard Dent. After winning two Super Bowls with the Patriots and a short stint with the Texans, Colvin retired after the 2008 season.
Colvin grew up in Indianapolis, and moved back there when he left the gridiron. He and his wife own a UPS Store and a cupcake shop called SweeTies Gourmet Treats.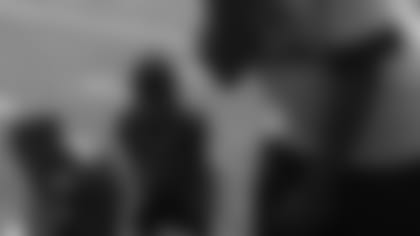 Ex-Bears linebacker Rosevelt Colvin works with kids at a flag football practice.
In 2011, Colvin's children were taking an interest in football and he wanted to give back to the community, so he started the All-Pro Flag Football League through NFL FLAG. Colvin's two sons played in his NFL FLAG league, which has allowed him to coach kids ages 4-16. Colvin said the three most important things he teaches his flag football players are to have fun, be respectful and do your best.

According to Colvin, flag football is a great tool to teach kids the basics of football.

"People don't realize it, but flag football teaches a lot of the fundamentals on both sides of the ball that kids need," Colvin said. "It's hard to break down and grab a flag that's dangling in the air. On the offensive side of the ball, everyone is eligible so the kids that usually get stuck playing the line get the chance to run or catch the ball."

Colvin understands the importance of teaching the fundamentals and letting the kids have fun.

"I didn't start playing tackle football until the seventh grade, so this is similar to what I did as a child in the school yard but a little more organized," Colvin said, recalling his own early experience. "In my league, all the kids get the same trophy and awards. It's really all about the experience to me. I play music and welcome the parents to get close to the action. I really promote sportsmanship and make sure the kids have a good time."

Colvin said the best part of being a coach is "seeing the joy on a kid or group of kids' faces when they are able to accomplish something, whether it be a TD, an interception, winning a game or getting their trophy or awards. It makes it all worth it. I really hate that you have to have losers."

Being a dad, Colvin understands the sensitivities of some parents.

"Parents need to, have to, and must understand that their child may not be the next superstar; that some kids play, understand and react differently," Colvin said. "It's really no different than life. Different strokes for different folks. As a coach you have to manage how sensitive a kid is or how a parent will respond to you raising your voice or their child not playing as much as they want them to. I've found that the more you are organized as a coach the better it is for the players, win or lose."

Colvin is also involved in the NFL FLAG football program on a national basis.

"Rosevelt's contribution to the NFL FLAG program and dedication to USA Football have created an incredible flag football experience for hundreds of children each year," said Samantha Rapoport, USA Football's senior manager of flag football.

"Rosevelt mandates that all of his coaches are certified to teach flag football and has acted as a spokesman for the NFL FLAG National Championships, allowing children across the country to meet a former NFL player, Super Bowl champion and flag football expert."