Last Week in the Community…
Crucial Catch Week
Chicago Bears wide receiver Javon Wims surprised Karen Cohen at her home and took her to an appointment with her oncologist at Advocate Condell. Cohen is a breast cancer patient who participated in the American Cancer Society's Road to Recovery program, which assists patients with volunteer rides. Javon provided Karen Cohen with two tickets to the Bears vs. Patriots game, as well as an autographed football, a customized jersey and the opportunity to be on field for pregame. 
Bears Care, along with linebacker Sam Acho and Staley Da Bear, surprised Chantell Windham, an elementary school teacher at Burnham Math and Science Academy, with tickets to the Bears vs. Patriots game. Chantell completed breast cancer treatment just this month and is excited to return to teaching next week. She is a highly-regarded figure in her community, and her students and fellow teachers can't wait to have her back!
Volunteers in the Bears Family packed tote bags with pampering essentials for 50 breast cancer survivors attending the YWCA Lake County's No One Fights Alone Breast Cancer Memorial Dinner in Waukegan. They helped Bears Care deliver the bags to the event where they surprised a very special survivor, Mayra, with two tickets to the Bears vs. Patriots Game.
Five breast cancer survivors treated at Advocate Health Care locations in Chicago had the opportunity to attend practice at Halas Hall. They each received a unique practice jersey bearing a limited-edition pink and white Advocate patch from a Bears player. Each player practiced with a special purpose this week – for cancer survivors and others who inspire them with their strength and resilience. These practice-worn jerseys are available for auction through the Bears Care Auction feature in the Chicago Bears Official App, brought to you by Verizon. All proceeds go directly to Bears Care to support programs serving breast cancer survivors and their families in the Chicagoland area.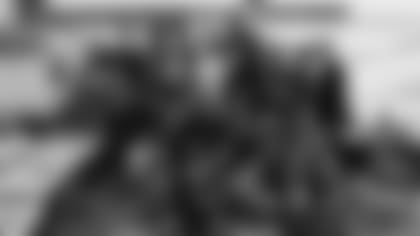 Bears School Outreach
Through a partnership with Youth Guidance, Chicago Bears players Bryce Callahan and Eddie Jackson visited Bronzeville Scholastic Institute and Dunbar High School to speak with students who are part of the Becoming a Man (B.A.M.) and Working on Womanhood (W.O.W.) programs. The B.A.M. program focuses on six core values, including Integrity, Accountability, Self-Determination, Positive Anger Expression, Visionary Goal Setting, and Respect for Womanhood. W.O.W. focuses on five core values, including Self-Awareness, Emotional Intelligence, Healthy Relationships, Visionary Goal Setting, and Leadership. 
Magellan's Champion of the Game 
The Chicago Bears and Magellan Corporation continue to brighten the spirits of deserving children through wish-granting experiences. Joseph Pottorf was invited to Halas Hall to watch a Bears practice and visit with his favorite players before the Bears vs. Patriots game. The Bears and Magellan provided four complimentary tickets to the game, along with pregame sideline passes, and recognized him in-game as the Magellan Champion of the Game.  
High School All-Star
The Chicago Bears Week 8 High School All-Star was quarterback/running back/safety Nick Rattin of Fremd High School. Last week Nick threw one touchdown, rushed for 231 yards and two touchdowns, and posted four tackles.  
Coach of the Week
The Chicago Bears Week 8 Coach of the Week winner was John Hoerster of Oak Park and River Forest High School who notched a 10-7 victory over Glenbard West on Oct. 13, marking their first win over the Hilltopers since 2007.