An hour before the 2023 NFL Draft began Thursday in Kansas City, nearly 800 of the NFL's most dedicated fans across all 32 teams filled up the front of the draft theatre attached to Union Station, which housed 17 of the nation's top draft prospects, their families and hundreds of NFL staffers and security members.
Those hundreds of fans inhabited each team's Inner Circle, which serves as a club's exclusive, 24-person live audience for Days 1 and 2 of the draft. With 125,000 total fans in attendance at the draft Thursday night, the select groups of diehard fans were given the closest view of the stage possible along with the chance to meet their team's draft pick right away, if he was in attendance. At this year's draft, the Bears Inner Circle occupied some of the best seats in the house, positioned right up front, just a couple feet from the stage.
When fans of opposing teams typically meet, there's hostility, rivalries and bragging rights involved, but at the NFL Draft, everyone's passion and obsession of the same sport generates a unique energy that surges through the entire draft theatre.
Two of the Bears Inner Circle members – Bill Ouwejan and his son Cody – have attended all but one draft since 2018. Cody described being at the draft as "the same feeling as opening week, same feeling as when we go to a Super Bowl."
"I think it's just a great time to see the real fans," Bill said. "It's not competitive in the way a game is, so everybody is here to just win today and everybody does win because everybody has a spot. So it is very friendly as opposed to a game environment which is a little rougher because nobody wants to lose.
"But nobody loses today. That's the beauty of it."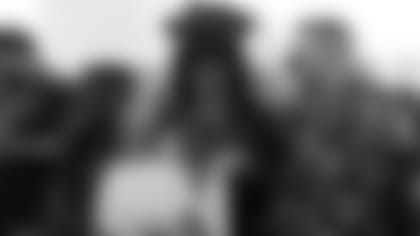 Bill and Cody, Bears season ticket holders, live in Western Canada and for the last 12 years have flown three and a half hours to Chicago for almost every game at Soldier Field. On Wednesday, the father-son duo spent nine hours traveling to reach Kansas City.
But for Bill who's been a Bears fan for 40 years, and Cody who wasn't given another option at birth, nothing compares to the "tingling" sensation they feel when the Bears go on the clock at the draft.
"I've been watching this team forever," Bill said. "I could date myself at that point, but I still get the same feeling. I used to watch it on TV and now I'm just excited to be able to be here and see it live. And it's crazy. It's gotten busier each year.
"Every year this intensifies. From 2018, the first one we went to, it's just stepped up every year. Every year they do a better job. It's fantastic and more and more fans come. More people dress up, it's great."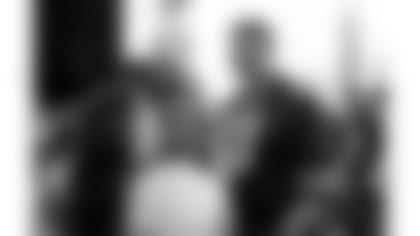 Joining the Inner Circle for the first time this year was Bears Draft Insider Sweepstakes winner Ben Benson, who brought his wife, son and daughter to Kansas City.
Benson, who had season tickets for the first time in 2022, received a call a few weeks back saying he'd won the grand prize trip to the NFL Draft. He and his wife were so surprised they thought it had to be a scam call at first.
Benson's Bears fandom dates back to when he was five years old, playing the Super Bowl Shuffle on the jukebox at a local restaurant his dad always went to, but growing up an hour north of Green Bay, everyone in his life is Packers fans. While Benson's wife is also a Packers fan, she was the one who enrolled him in the season ticket holder waiting list as a Christmas present 15 years ago, calling the gift a symbol of "true love."
"My whole family are basically Packers fans," Benson said, "but I have pictures at five years old in Bears clothes. I guess I was born to be a Bears fan.
"None of my friends are obviously Bears fans. I grew up in enemy territory, but I stuck with it. I never wavered. I raised my kids to become Bears fans."
As the sweepstakes winner, Benson not only earned seats to the Inner Circle, but on Thursday him and his family received a backstage tour, went the green room, saw how the draftee's jerseys are made in 20 seconds, walked the red carpet, and did an exclusive Q&A with NFL Commissioner Rodger Goodell.
To cap the experience off, Benson handed the Bears jersey off to Goodell on stage once the Bears selected Darnell Wright as the No. 10 overall pick and also had his jersey signed by the commissioner.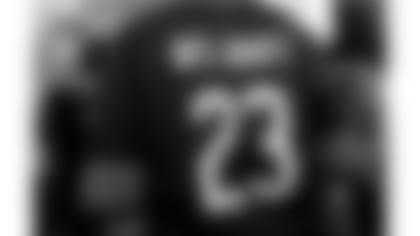 Other first-timers in the Inner Circle were David Ward and his son, Kyle, who left his house in Madison, Wis. at 5:30 a.m. Thursday to pick up his dad in Rockford. The pair then drove about seven hours to Kansas City and headed straight to their spots at the NFL Draft.
Being at the draft was unlike anything they imagined. While both David and Kyle typically watch the event from home, they were shocked by the "grand scale of the stage," saying "it's a lot to take in."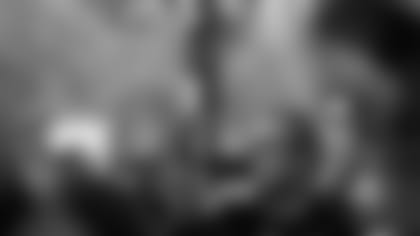 While watching the draft live was a dream come true in itself or lifelong fans David and Kyle, the weekend caused additional emotions to surface as Kyle's season tickets once belonged to David's best friend, Jim, who recently passed away.
"Growing up in the Chicago area by the nature of it, I was a Chicago Bears fan," David said. "[Kyle's] season tickets came from my best friend who I've known since kindergarten. When Jim passed away, his wife offered them up to my son."
David and Kyle described Jim as the biggest Bears fan they knew, saying "he lived and breathed it," and had an affinity for all sports from the high school level to the pros. While they know Jim would've loved to be a the draft himself, they're honored to sit in the Inner Circle to represent the Bears. "No. 1 supporter."
"It makes me very happy knowing that I have Jim's tickets," Kyle said.