Beginning Wednesday when players arrive at Olivet Nazarene University in Bourbonnais, ChicagoBears.com will provide unparalleled coverage of Bears training camp.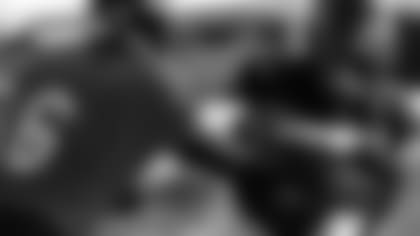 Jay Cutler hands off to Kyle Long.
The team's official website will post the latest news, feature stories and videos featuring camp reports and interviews around the clock. ChicagoBears.com will also generate daily photo galleries and enable fans to interact and discuss issues concerning the Bears on Facebook.
In addition, fans will get unprecedented access to the Bears on Twitter (@ChicagoBears)-on the practice field and inside the locker room-with real-time news, nuggets and photos.
On Wednesday, general manager Ryan Pace and coach John Fox are scheduled to speak to the media.
The Bears will hold training camp at ONU for the 14th straight summer. The campus is located 60 miles south of Chicago and boasts four practice fields, air-conditioned locker rooms and dining facilities, a weight room, meeting rooms, and dorms for players and staff.
All practices in Bourbonnais are free and open to the public.
After reporting Wednesday, the Bears will practice for the first time at 9:35 a.m. Thursday. They'll work out in pads for the first time at 9:35 a.m. Saturday, Aug. 1. Their final practice in Bourbonnais is scheduled for 9:35 a.m. Sunday, Aug. 16.
Of the 13 training camp practices, six will begin at 9:35 a.m. and six will start at 11:15 a.m. The Bears will conduct their Family Fest practice at 11:35 a.m. at Soldier Field on Saturday, Aug. 8. Family Fest tickets cost $8-12 and are available via Ticketmaster.
For 9:35 a.m. practices, gates will open at 8:30 a.m. with warm-ups beginning at 8:50 a.m. and practice concluding at 11:30 a.m. For 11:15 a.m. practices, gates will open at 10 a.m. with warm-ups starting at 10:30 a.m. and practice ending at 1:10 p.m.
The training camp site on the Olivet Nazarene campus includes a kids' interactive area, a pro shop, and a promotional area with games and prizes.
In addition, the Bears will host several theme days throughout camp, including Youth Football Day Aug. 1, Vamos Bears Day Aug. 2, Ladies Day Aug. 5, Bears Blue and Orange Day Aug. 7, Armed Forces Day Aug. 10, Kids Day Aug. 15 and Fan Appreciation Day Aug. 16.
Click here for a complete training camp schedule and additional information.