Quarterback Mike Glennon had an unusual request for general manager Ryan Pace shortly after agreeing to a three-year contract with the Bears.
In addition to wanting the playbook and tape of the offense loaded onto an iPad, Glennon asked for the cell phone numbers of every player on offense and some on defense as well as the photos and names of each person he'll interact with at Halas Hall.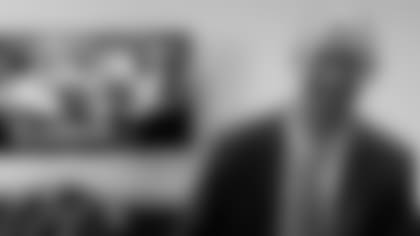 Quarterback Mike Glennon signs his contract with the Bears Friday at Halas Hall.


"I think that tells you something about a guy when that's kind of his mindset before he even walks in the building," Pace said Friday.
There's no doubt that Glennon will embrace and appreciate his opportunity with the Bears, especially after spending the last two years in Tampa sitting on the bench and watching Jameis Winston, the No. 1 overall pick in the 2015 draft.
Glennon appeared in 19 games with 18 starts his first two seasons with the Buccaneers in 2013-14 but threw just 11 passes in two games the past two years.
"It was definitely very difficult because you want to be out there with your team competing," Glennon said. "You put in the same amount of work whether you're playing or not and you want to be out there with your teammates, helping contribute on the field to wins.
"At the same time, I took those two years to prepare for when this opportunity came. I didn't know when it was going to come. It could have come when Jameis got hurt; that never happened. But I felt prepared to take advantage of my opportunity and now that opportunity has come."
Although Glennon didn't take many game reps the past two seasons, he still feels that he improved as a quarterback.
"I haven't played in two-plus years, but I was playing when I was 23, 24," he said. "I'm 27 now and I feel like I'm a much better player.
"I've grown physically. I've grown mentally. I'm more confident in my abilities. I've seen more NFL defenses. I've been part of way more NFL meetings and overall I feel like I'm a much smarter player. I feel I've always thrown the ball well and over the last few years I've worked on some things that have made me a better passer that I will show this fall."
In preparing for free agency, Glennon scouted teams that he felt could be in the market for a starting quarterback, and the Bears checked all of his boxes.
"I wanted ultimately a team that could win and I feel like we can do that here," he said. "Having played against the Bears, having scouted them, I felt it was a better team than [their 3-13 record last season] showed.
"When I watched the Bears film, I saw a great offensive line, I saw a great running game and I saw playmakers on the outside. I saw a system that I felt fit my skill set. This was a team that I thought about over these last few months. I'm just excited that it all worked out the way that I hoped and envisioned. My gut always told me the Bears. It just felt like that was the place I wanted to be."
Glennon heard good things about the Bears from receiver Eddie Royal—who went to high school and was college roommates with Glennon's brother—as well as former Bears guard Ted Larsen, who signed with the Dolphins Friday.
Glennon went out for dinner Thursday night with Bears coach John Fox and quarterbacks coach Dave Ragone and met with offensive coordinator Dowell Loggains Friday at Halas Hall. The quarterback is excited about the scheme because it features a variety of concepts that he's familiar with.
"I've been in three systems in four years, and there [are] pieces from all of them," Glennon said. "And things I felt like I excelled in in those offenses, Dowell has in his.
"I pride myself on being a smart guy and having full command of the offense and really getting the ball in the playmakers' hands. I feel like with the run game we have, with the offensive line, the great running backs and the playmakers on the outside, all I need to do is make good decisions with the football and get it to them and we'll be very successful."