After a bout of dehydration sidelined Eddie Goldman Thursday, the third-year nose tackle was back where the Bears need him to be Friday—on the practice field.
Goldman is an integral member of the defense due to his ability to stuff the run and rush the passer while occupying blockers, which frees up teammates to make plays. After the 2015 second-round draft pick was limited to six games due to an ankle injury last season, it's paramount for the Bears that Goldman remains healthy this year.
"It's huge," said coach John Fox. "I think his ability and his draft status, when he's been out there and healthy, I think it's evident when he's not there."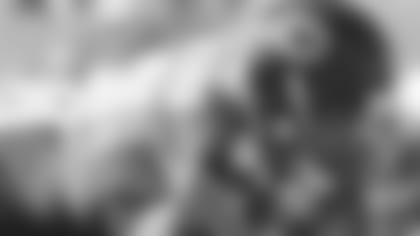 Eddie Goldman was selected by the Bears in the second round of the 2015 draft.


The Bears are hoping that Goldman reverts to the form he showed late in his rookie season in 2015 when he registered 10 tackles, three sacks and three tackles-for-loss in a three-game span. He played well in last year's opener as well, registering six tackles and half a sack against the Texans but injured his ankle a week later versus the Eagles.
"When he's on the field, he makes a difference, anyone can see that," said defensive end Akiem Hicks. "He's dominant. You can feel him next to you because I know that that guard isn't going to come out and try to help or whatever the scenario is, I know I'm more likely to have a one-on-one with a guy when Eddie's playing nose."
Goldman failed to complete his conditioning test Wednesday due to dehydration, but Fox said that it wasn't because the nose tackle is out of shape. In fact, Goldman reported to camp at a svelte-for-him 315 pounds and is expected to be on the field Saturday when the Bears conduct their first practice in pads.
On the shelf: Outside linebacker Pernell McPhee underwent arthroscopic surgery on his right knee Friday morning. No timetable was given for his return to practice.
McPhee was placed on the physically unable to perform list Wednesday night after an irregularity was discovered in his right knee during a team physical. The seventh-year pro missed the first six games last year while recovering from surgery on his left knee.
"The extent of the scope is just a clean-up," Fox said. "We'll keep you posted as far as the timeline. I'm not going to try and predict that."
In other injury news, running back Jeremy Langford did not participate in Friday's walkthrough after spraining his ankle in a walkthrough Thursday afternoon.
Langford had surgery on the same ankle during the offseason to repair an injury he suffered last year. But Fox indicated the sprain is unrelated, saying that it's "completely different than the repair he had. It was more of a low ankle sprain, a separate type of ankle injury that he kind of tweaked a little bit. It's low ankle, so it's not catastrophic."
Culture change: Outside linebacker Lamarr Houston is one of only 11 players on the Bears' 90-man roster who was acquired before general manager Ryan Pace was hired in 2015.
"It's much different now," Houston said. "We have a more cohesive locker room. Guys are excited to be here. Guys want to play football. They want to win. You can feel the vibe around the building. Everybody's really into what we're doing and how we're doing it and I think that's going to make us a much better football team."
The other 10 players who were acquired by Pace's predecessor, Phil Emery, are Josh Bellamy, Pat O'Donnell, Ka'Deem Carey, Sherrick McManis, Christian Jones, Charles Leno, Jr., Kyle Long, Zach Miller and Willie Young.
Time changes: The Bears have moved up the start times for several of their practices in Bourbonnais, beginning with this weekend. Workouts scheduled for Saturday and Sunday will now kick off at 10:30 a.m. with gates opening at 10 a.m.
The Bears are slated to practice in pads Saturday and Sunday after conducting a walkthrough Friday, which was spent focusing mostly on the mental aspect of the game.
"Days like this are extremely valuable," said veteran receiver Victor Cruz. "I remember my rookie year having two-a-days and then another practice the next day, then a day off and then another two-a-day. Those days were pretty brutal. But having days like this, a mental day, it's huge for us and it's great, especially for guys like myself, but it weighs a lot on your mental. You have to make sure you understand where you're supposed to be, understand what's being asked of you and make sure you stay locked in."