Bears offensive coordinator Aaron Kromer is pleased with how his players responded after their slow start contributed to Sunday's 26-18 loss to the New Orleans Saints.
The offense ultimately generated a season-high 434 total yards, but the unit struggled early. On their first five drives, the Bears fumbled twice, yielded three sacks, committed one turnover, mustered only two first downs and failed to advance beyond their own 35-yard line.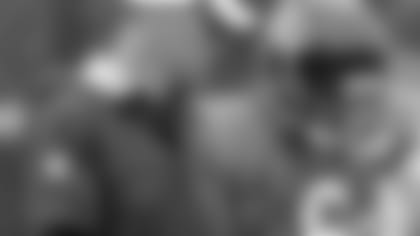 Bears offensive coordinator Aaron Kromer chats with quarterback Jay Cutler during practice.
"This team came in the day after the game and the entire offense was in lifting, working out together, watching the tape together, because it was a short week," Kromer said Wednesday as the Bears continued to prepare for Thursday night's game against the New York Giants.
"We weren't able to show the entire tape like we normally do to them. They watched it all on their own, gave us the reports of this is what should have happened, this is what we should have done, we see this here, this is what we did well.
"When you have a team that's that driven to get something solved or to continue to have success, there should be success in the future."
All three of the sacks the Bears allowed came on Saints blitzes in the first 16 minutes of the game, with one resulting in a turnover when safety Malcolm Jenkins forced a Jay Cutler fumble.
"As an offensive coordinator and offensive line coach, that's my responsibility to make sure we pick up these blitzes and obviously last week we didn't do that," Kromer said.
"We didn't see the blitz correctly to be able to pick it up, so if you follow your rules and you're consistent with your rules, things will get picked up. So I'll take the hit on that. It's my responsibility to get it right, and we'll do that."
Cutler rebounded from the early turnover to complete 24 of 33 passes for 358 yards with two touchdowns, no interceptions and a 128.1 passer rating that was his third highest since joining the Bears and the best by one of the team's quarterbacks in a loss since 1996.
Kromer defended the offense from media criticism Wednesday, especially after being asked about running back Matt Forte fumbling a pitchout from Cutler and failing to pick up a blitz Sunday.
"Yeah, he had one fumble and he had one missed key, so he had a horrible game," Kromer said sarcastically. "But that's football. It's an imperfect game played by imperfect people.
"We're seventh in the league in rushing yards per carry and we're sixth in the league in sacks given up. So we have one [bad] quarter and everyone panics that we can't play football anymore in Chicago. I say they're wrong because when you really look at the whole season and the whole product that we've put out there at this point, we are in the top 10 in both of those categories."