Phil Emery deserves much of the credit for the Bears landing free agent defensive end Jared Allen. But the team's general manager will be the first to tell you that it was a group effort.
Emery opened Allen's introductory press conference Monday by thanking Bears owner Virginia McCaskey, chairman George H. McCaskey, team president and CEO Ted Phillips and chief contract negotiator Cliff Stein, among others, for their efforts in signing Allen to a four-year deal.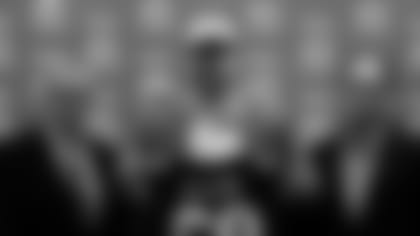 New Bears defensive end Jared Allen is flanked by general manager Phil Emery and coach Marc Trestman at Monday's press conference.
Emery lauded the McCaskeys "for their incredible support and continued support" and praised Phillips for helping to get the contract finalized at last week's NFL owners meetings in Orlando.
"He was a great sounding board and offered great input," Emery said. "He was a big part of getting it done. I just want to thank Ted for his efforts."
Emery also commended Stein and Allen's agent, Ken Harris, for reaching an agreement.
"The structure was a little bit different," Emery said. "It took a lot of creative thinking on both sides and listening to each other and trusting each other. Those two together worked tirelessly throughout the evening. Thanks to both of those guys for their efforts."
Allen was pleased with how the negotiations went and is eager to begin playing for the Bears.
"I appreciate how hard and how diligent everybody worked on the contract," he said. "I know both sides pushed through some issues and gave a little. That's what I was really looking for ultimately; they got creative on things to make it work, both sides.
"And to come into an organization that's willing to work, that's willing to trust that we're going to do what we say we're going to do and they're going to do what they say they're going to do and everything works out in the end, there's no better way to start the relationship."
Allen is the 28th player the Bears have signed since the final week of the 2013 season. The group includes 16 returning Bears players, nine unrestricted free agents and three street free agents.
"We are very excited about the group of players we have signed," Emery said. "Kevin Turks, our pro director, and Dwayne Joseph, our associate pro director, deserve a lot of credit for all their work and evaluations and keeping things organized out in front of us."
Emery is also grateful to Bears coaches for their participation in the free-agent process.
"This time of year is very much about recruiting and they did a great job of recruiting back those former Bears players and recruiting new players such as Jared," Emery said.
"I want to say a special thanks to [defensive coordinator] Mel Tucker who was relentless in this effort. He's done a great job throughout recruiting our former players and the new group of players that we've signed. He should be given thanks for his efforts."
Tucker spoke to Allen on the telephone while vacationing at Disneyland in California.
"I think Mickey Mouse was in the background," Allen said with a smile. "I understood what he wanted from me and he knew what he was going to get from me, and our philosophies kind of matched up to that right way of thinking.
"For me, it's not about the bells and whistles. It's not about how great the facilities are and the perks you're going to get. It's about winning football games. It truly is about believing in what and who I'm playing for and coming to work and not pulling into that parking lot like, 'Oh, I've got to go to work,' but 'I* get* to go to work.'
"That's the mentality I like to have."