To close out Women's History Month, ChicagoBears.com writer Gabby Hajduk profiles team reporter Lauren Screeden and her journey toward a career in sports.
---
---
When Bears team reporter Lauren Screeden was a young girl growing up in St. Charles, Ill., she could recite Theodore Roosevelt's entire "The Man in the Arena" speech – all 134 words of it.
It's not typical for a sixth grader to have a United States president's speech memorized. For Lauren, it was normal because the words lived on her bedroom wall throughout her childhood, but with minor changes.
Lauren's parents, Jim and Patty, switched "man" to "woman" and "he" to "she," tailoring the quote to Lauren, hoping it would serve as a constant reminder that she could accomplish anything she dreamed of.
Even now, years later, Lauren goes back to the quote whenever she feels she screwed up or could've done something better. She remembers, "it's not the critic who counts," but the "[wo]man who is actually in the arena."
"They just encouraged me to do everything, take risks," Lauren said. "They were just always so supportive of me and everything that I wanted to do. I wouldn't be here if it wasn't for them.
"I just grew up truly knowing that there was nothing I couldn't do, because they told me all the time, every day."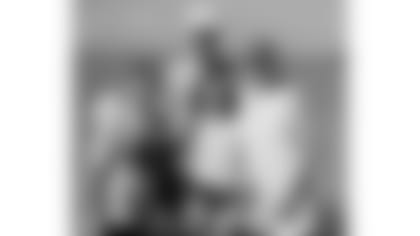 That first big risk in adulthood came when 22-year-old Lauren moved across the country just six weeks after graduating from Indiana University, where she double-majored in journalism and Spanish.
Once Lauren neared the end of her senior year, she sent a demo reel to over 50 news stations across the country, willing to move anywhere if it meant getting her foot in the door. While she had plenty of work samples from interning at NBC Chicago the summer going into junior year and WGN the following summer, Lauren received no inquiries about her reel.
"I had my friend send me an email to make sure my emails were going through," Lauren said. "Because I thought, you can't physically send out this many emails and nobody responds, not even an automatic response. The email went through. It was fine."
Lauren decided to pivot, finding a roommate on Craigslist and moving to Boston, where she had "enough of a lead," knowing someone who ran "The Whistle," a kids sports digital network. While it wasn't a flashy resume-booster, the network allowed Lauren to refresh her demo reel and tailor it toward sports reporting.
Although extremely valuable career-wise, appearing on The Whistle didn't exactly cover the living expenses a city like Boston demanded, so Lauren had to get creative.
"I was the crazy girl walking dogs," Lauren said. "I was in bagel commercials. I worked at a boutique, shoutout Bessie Blue. I emceed a wedding. I'm telling you, at one point I had legit seven jobs."
In between learning QuickBooks to help Ray's New York Bagels with accounting work and reporting on how TD Garden switched the floors between NHL and NBA games, Lauren kept sending out her work and checking tvjobs.com for the latest postings.
About a year and half removed from college, Lauren finally got a call from WTVO in Rockford, an area she was somewhat familiar with, and took a job as the station's first female sports reporter/anchor.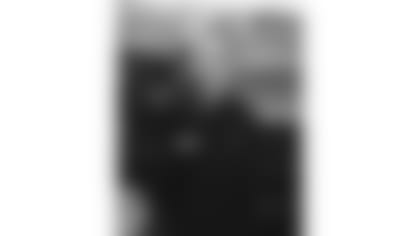 ---
---
Lauren's love for sports was born out of survival instinct as a child. Growing up with her brother, Adam, who was just 13 months older, Lauren had no choice but to learn how to catch a ball unless she wanted it to hit the side of her head.
When Adam played youth football for the Tri-City Chargers, Lauren would be off to the side playing catch with her dad. She eventually took up sports like volleyball, basketball, softball and even karate – a hidden talent considering she's a black belt.
While Jim was "a mediocre Vikings fan" who grew up in Minnesota, Patty was raised in west suburban Brookfield and took pride in her Chicago roots and, subsequently, her Bears fandom.
Lauren's family was never the season ticket holder-level of Bears fans, but Patty instilled that passion for Chicago sports in Lauren from the time she was born. Lauren remembers her mom taking her and Adam to a Verizon store in Batavia to meet Brian Urlacher. She wore her little pink Urlacher jersey and told him: "You're my favorite football player ever." He proceeded to sign his name and the number 54 on a little football a memento she keeps in her office today.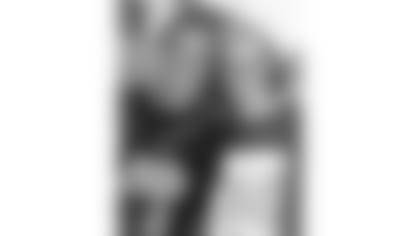 Once Lauren decided to go to Indiana to pursue a broadcast journalism career, finding a career in the sports industry was always the dream. But those spots were difficult to come by.
"I loved sports; I always wanted to do sports," Lauren said, "But everybody always said, there's one sports job at every station and there's how many reporter jobs? I really was just trying to get my foot in the door."
Sports updates on a college radio show was the extent of Lauren's sports journalism experience while at Indiana. But her summer news internships in Chicago turned into more valuable experience than she imagined.
As an NBC intern, Lauren worked with Lisa Parker, a groundbreaking investigative reporter. At WGN, Lauren interned for Micah Materre – an evening news anchor at the time. At both of those stops, she logged interviews, made calls about stories, then got opportunities to add professionally shot standups to her demo reel.
"At the time, sports was still news, everything was news," Lauren said. "It was all a newsroom atmosphere. And I remember Lisa said to me at the beginning of the summer, 'this will be the most valuable internship that you have, because you'll either know that you love it or you hate it,' and I loved it. I just loved being in it, the fast pace."
---
---
When Lauren joined the WTVO crew in Rockford January of 2014, the sports desk consisted of her and Sports Director Scott Leber, who strived to be the only local station that covered the Bears consistently.
Going from Bessie Blue boutique to an NFL locker room at Halas Hall was a stark change for Lauren, but it was the challenge she had been searching for since graduating from Indiana.
Every Wednesday, Lauren would drive over an hour to Lake Forest to attend Bears media sessions and occasionally traveled to Soldier Field on Sundays for games. But being one of only two sports reporters at the station, Lauren's Bears coverage was just a fragment of her role in Rockford.
"Friday night lights, high school football, we'd go to about eight different football games," Lauren said. "We'd shoot highlights, come back, do a show called Sports Connection, which was like a half hour show. We would come back from all those highlights and [Leber] would get done at 11 p.m. with the news then we would shoot Sports Connection when we finally had everything edited. So, it'd sometimes be 2:30, 3:00 in the morning. I'd get home at 4, go to sleep and then I would be back to work."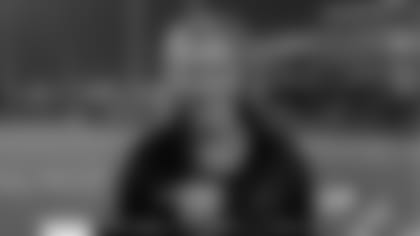 Naturally, Lauren enjoyed the chaos of the job, and while the hike to Halas Hall each week could've been a pain for some reporters, everyday Lauren lugged her heavy tripod and camera into the facility with a smile on her face and an eagerness to work. 
Being in that male-dominated setting may have been intimidating to Lauren if she wasn't so focused on perfecting her craft and producing the best content possible.
"Everything here amazed me," Lauren said. "Because I was just like, 'Oh my God, I'm at Halas Hall. This is incredible and I'm in an NFL locker room.' Everyone was always super nice, super respectful. There were a lot of women. At that time Peggy Kusinski was still working. Megan [Mawicke] from CBS, Dionne [Miller] was I think with Fox at the time.
"But I never had any issues. I was also just more concerned with - you probably could have hit me in the head, and I wouldn't have even noticed, because I'm like, 'Are my camera settings good? Am I recording?'"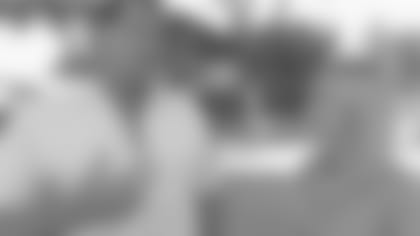 After open locker rooms or press conferences, Lauren would rush to the car, set up her laptop and load her clips on the way back to Rockford to ensure her stories were set for the 5:00 p.m. news.
One of those Wednesdays, though, Lauren remembers being "super down," as she knew Rockford wasn't a forever home, but sending out her reel was once again not working. As she left Halas Hall that day, Bears radio play-by-play broadcaster Jeff Joniak offered a sliver of hope.
"I'll never forget Jeff Joniak, one day he walked me out because he was helping me carry my tripod and stuff," Lauren said. "And he was like, 'Just so you know, keep working hard, people notice.' And it was so awesome. I called my dad and said, 'Jeff Joniak just walked out with me!'"
Eventually, the team reporter role opened up with the Bears and on the same day Lauren sent an email inquiring about the position, the organization reached out to gauge her interest in the job.
After interviewing with her soon-to-be coworkers and managers and auditioning with Anthony 'Spice' Adams, who eight years later still comments on how sweaty her hands were that day, Lauren was offered the position and immediately accepted.
"The two things my parents always told me were work hard and be nice to people and it'll work out," Lauren said. "That's honestly what happened here. That's how I got this job. I worked hard and was nice to people.
"My mom always said, 'you treat the CEO of the company the same way you treat the person that is cleaning the bathroom.' That's just what I've always believed and lived by."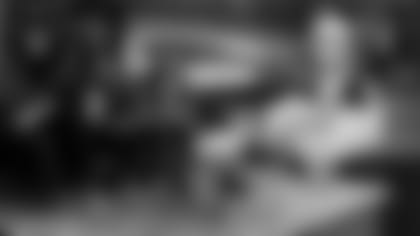 ---
---
Lauren is about to enter her ninth season with the Bears, but the job often still feels like a dream.
"It sounds cheesy, but when I pull up and walk into work, I've spent a lot of jobs walking into places that it wasn't like, 'Wow, I get to work here,'" Lauren said. "So I do still have that, but it's a good reminder sometimes that we do get to do really cool things and be around people that people dream of meeting just once and you get to high five them in the cafeteria."
The appreciation and humility that's never wavered in Lauren, despite her incredible and challenging journey to the Bears, is what makes her successful in her role. That was something Adams immediately picked up on when meeting Lauren.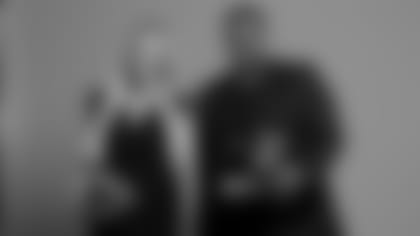 "[Lauren] is the funniest, smartest professional I know," Adams said. "Extremely reliable and the most bubbly person on the planet. She is the best. [The connection] wasn't forced. You can tell she is naturally funny; she has been a joy to work with."
All of those traits are a complete reflection of her family, who influenced the way she approaches both her career and life.
Along with Jim, Patty and Adam, Lauren's husband Kevin has provided another layer of support and love that has helped her maintain that positive outlook and humble mindset. Kevin's understanding of Lauren's crazy work hours, public-facing role and passion to succeed in a challenging field has been monumental to her life. And, Kevin brought Lauren's now-best friend into her life: Chevy, their yellow lab.
Lauren's constant drive stems from Patty and Jim, who both worked long careers at Motorola – where the two met. Prior to meeting Patty, Jim served in the Army and lived in Germany for four years. When he moved back to Minnesota, Jim joined Motorola and was eventually in charge of all the public safety radios in North America. He helped with emergency response work, including 9/11 and Hurricane Katrina.
While Lauren will always admire her dad's work and service, Patty was the blueprint for her daughter.
"My mom worked at Motorola, and she was high up, and we're talking about the '80s," Lauren said. "There weren't women in the positions that she was in. She was used to working in a male-dominated industry, and so she would always tell me, 'you'll get in the door twice as fast, but you'll have to know twice as much.'"
Patty's influence set Lauren up for success in a space that isn't always common for women. While Patty knew her daughter would excel as a broadcast journalist, she was never able to see Lauren reach the sports industry. After a seven-year battle with bladder cancer, Patty passed away while Lauren was still in college.
Even when Patty was sick, she worked as a patient advocate for the Bladder Cancer Advocacy Network. Continuing her mother's work is now Lauren's most important passion. Every May, she does a walk for the network; since meeting Lauren, Adams has never missed one.  
While Lauren's current support system helps her continue striving toward her career goals, for her, there's nothing like her mother's motivation. Even though Patty didn't see Lauren race between high schools to cover multiple football games or watch her host Bears games at Soldier Field, her influence on Lauren will never fade. Jim will always make sure of it.
"She was the one who grew up in Chicago and looking back now, she always talked about that, but I never really realized that it came full circle," Lauren said.
"So she never actually got to see it, really. But my dad always tells me how proud she would have been."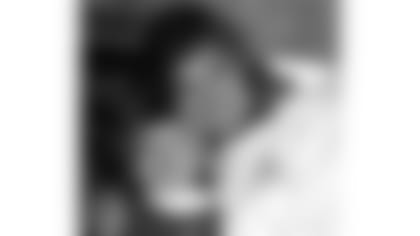 For more from Lauren Screeden, watch the video below: