Former NFL safety John Lynch, who's broadcasting Sunday's Bears-Rams game at Soldier Field on Fox, will never forget Brandon Marshall's first practice with the Denver Broncos.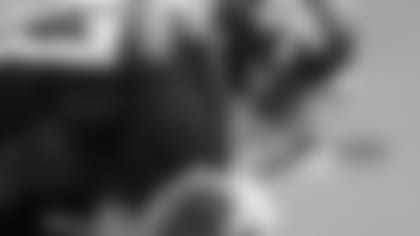 John Lynch and Brandon Marshall battle during a Broncos practice in 2006.
Back in 2006, Lynch was a perennial Pro Bowler for the Broncos and Marshall was an unheralded fourth-round draft pick from Central Florida.

"He's fun, he's got that big smile and he can talk a little bit," Lynch recalled. "I said, 'I'm going to show this rookie a lesson.' I was known for being a big hitter and in practice he caught a little slant and I went to give him a good shoulder just to let him know, 'All right, you're in the NFL now.'

"I remember it took everything for me just to get back to the huddle and not show that I was hurting because he's just a little different. He's running like that and he's 230 pounds."

Lynch is happy that Marshall has joined the Bears and thinks he will have a productive season.

"He's always been a tremendous football player," Lynch said. "But I think he's at a good place in his life where he's kind of admitted some of his past faults and gotten help for some things, and I'm really excited to see him flourish as a person and as a player."

Lynch played two seasons with both Marshall and quarterback Jay Cutler in Denver.

"I'll never forget the first time I caught one of [Cutler's passes]," Lynch said. "It ripped the [skin] on my finger. It sounded different. He's a rare talent with rare ability, and I pull for both of those guys."

Prior to joining the Broncos, Lynch spent his first 11 NFL seasons with the Tampa Bay Buccaneers from 1993-2003, working with defensive assistants Lovie Smith and Rod Marinelli. Smith was linebackers coach from 1996-2000, while Marinelli coached the defensive line from 1996-2005.

"Those guys never coached me in my position," Lynch said, "but I felt like I was better because of them, because of what they stood for, what they taught and the detail they did it with. They're wonderful coaches.

"We had fun. We played football the way football was supposed to be played. Those are two of the finest assistants I've ever been around; just tremendous coaches that love football and then great people on top of it. Those were special times and years I look fondly back upon."